Premium mobile phone manufacturing company TECNO Mobile is celebrating its anniversary in Uganda this August. This will be a celebration to mark 12 years of service and existence in the area code of +256. 🤗
The Hong Kong based Chinese mobile phone company was established in the year 2006 and is a subsidiary of Transsion Holdings. TECNO Mobile goes by the slogan "Expect More" and is a leading manufacturer and distributor of Consumer Electronics in the line of Mobile phones, tablets, accessories in Africa and was recently named among the top most admired brands in Africa, among other brands Nile Special, and MTN among others.
To celebrate this milestone, TECNO Mobile is set to make the month of August a month of gifting and giving back to the already existing customers and to reward the new ones with prizes.
Speaking at the launch of the "TECNO At 12 Years" campaign, Etiang Joseph, the Public Relations Officer at TECNO Mobile said that; " It has been a good 12 years of serving Ugandans with the finest of handsets and accessories. When TECNO started out in Uganda in 2008, we were producing feature phones, and 12 years down the road, we have by far the most consumed smartphones and handsets on the market. So, to reward everyone for their loyalty and support, TECNO Mobile has decided to celebrate their anniversary with their customers in an all month-long giveback campaign. August 1st to 31st will see us reward several lucky winners in our new promotion that will see lucky winners walk away with amazing goodies.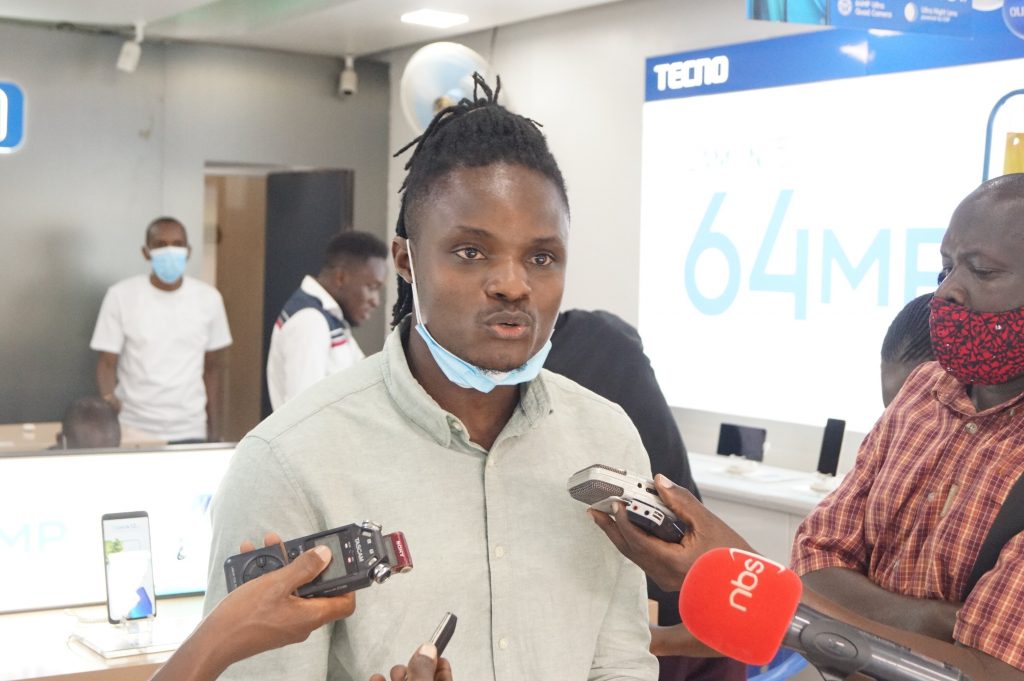 The mechanic for participation is simple, all one has to do is; purchase any of the phones: Camon 15 Premier, Camon 15, Camon 15 Air. Spark 5, Spark 5 Air, F1, Pop 2 Plus and Pouvoir 3 Air. Remember their partnership with MTN? well, purchasing any of the above devices does mean that each will come FREE 3GB of mobile data courtesy of MTN for 3 months and 100% bonus on all data bundles purchased.
All one has to do is place their MTN sim card in slot one of their smartphone. There is also a discount on the Camon 15 series of UGX 30,000. All one has to do is claim their electronic voucher here:
To enter the TECNO Mobile anniversary giveaway, one has to buy their device from any of these 83 selected TECNO outlets countrywide:
The prizes:
Well, participants do stand a chance to walk away with TVs, fridges, smart phones, bags, umbrellas, discounts vouchers on TECNO Mobile products.
The winners will be announced after a lucky draw that'll be airing every Friday on NBS TV Un-cut show at 8pm.
While unveiling the promotion yesterday, 6 loyal customers walked away with gift hampers as a token of appreciation for supporting TECNO Mobile. Each was given opportunity to share their journey in regard to their experience with the TECNO brand and products. The hampers were handed over by comedians Madrat & Chiko amid cheers from TECNO officials. 🎁🤭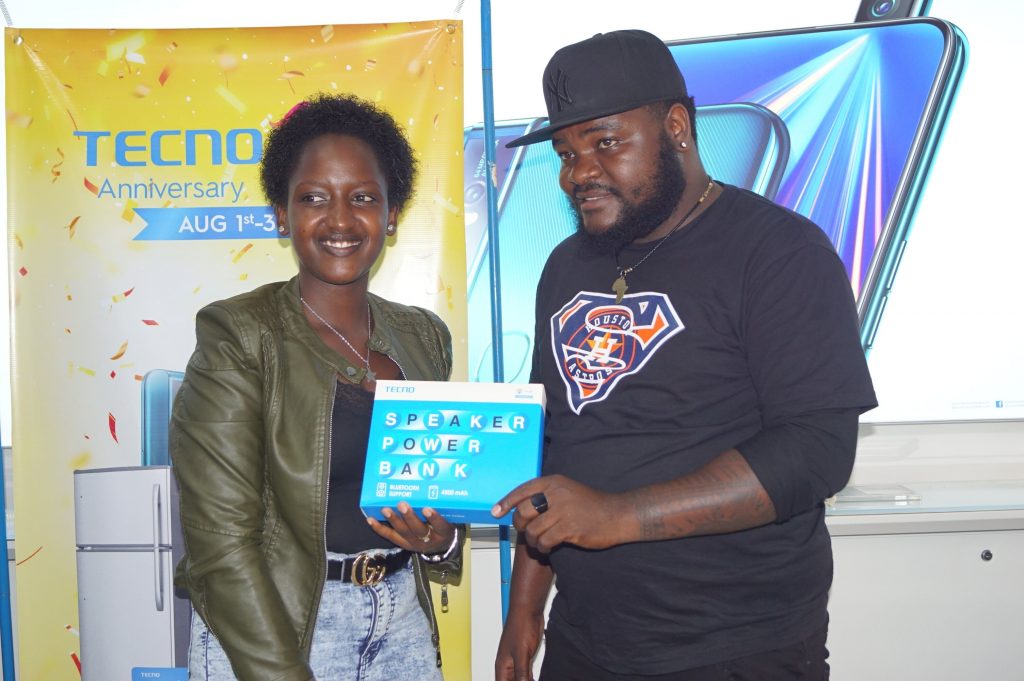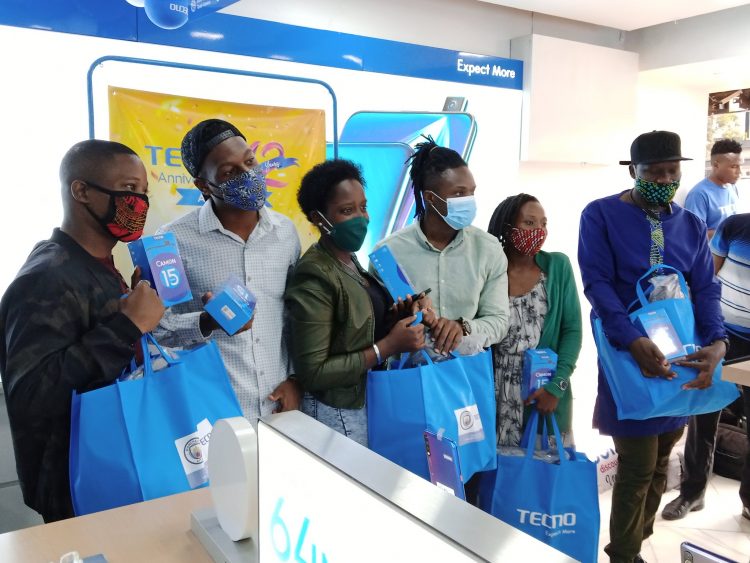 Brief background about TECNO Mobile: (Source: TECNO's Website & Wikipedia)
Founded as Tecno Telecom Limited in 2006, but later changed its name to Transsion Holdings with Tecno Mobile serving as one of its subsidiaries, TECNO Mobile is the premium mobile phone brand of TRANSSION Holdings (mother company behind TECNO, Infinix, itel) with a comprehensive mobile device portfolio across feature phones, smartphones and tablets.
TECNO Telecom Historical Timeline
2006 (July) – Establishment of TECNO TELECOM LIMITED
2007 – The corporation created a second brand, Itel, and began making movement into the African market.
2008 – TECNO focused strictly on Africa following market research.
2010 – TECNO rose to the top three mobile phone brands in Africa.
2012 – TECNO released its first smartphone (TECNO T1).
2013 – TECNO has a presence in 12 countries in Africa with an average market share of 20% in each country.
2016 – TECNO Mobile Announced TECNO W4, the first TECNO Smartphone To Run Android Marshmallow 6.0 Operating System.
2016 – TECNO Mobile presents "The Best Camera Smartphone In Africa".
2017 – Launch of the Spark Series (Spark K7 & K9)
2018 (April) – TECNO launches the Camon X & X Pro (with Android 8.1 the latest Android OS)
2019 – Launch of (Spark 3,4,5) Phantom 9, Camon 12 and Partnership with MTN.
2020 – Unveiling of the Camon 15 series. Celebration of the TECNO at 12 Year anniversary in Uganda.
The growth of TECNO Mobile's phone both feature and smartphones as moved as far as from the TECNO P3, N3, P5, H6, P6, F5, F6 to the more advanced sizes in; the TECNO Phantom A, Z, D9, Y series, Boom J7, & the Boom J8, Tablets, among others. Of course, each offering a for-the- budget smartphone price (affordable), and quality variety.
To date TECNO has presence in more than 60 countries across the globe. It is now one of the top three mobile phone brands in Africa and a major player worldwide. TECNO is also the Official Tablet and Handset Partner of Manchester City Football Club. It also continues producing customized products to local needs and better services to local consumers. Congratulations on your BIG 12, TECNO. 🎉