24-year-old Ugandan climate activist Vanessa Nakate has become the latest cover for TIME Magazine's October Issue, that's been set aside as a Global Climate Fight Issue.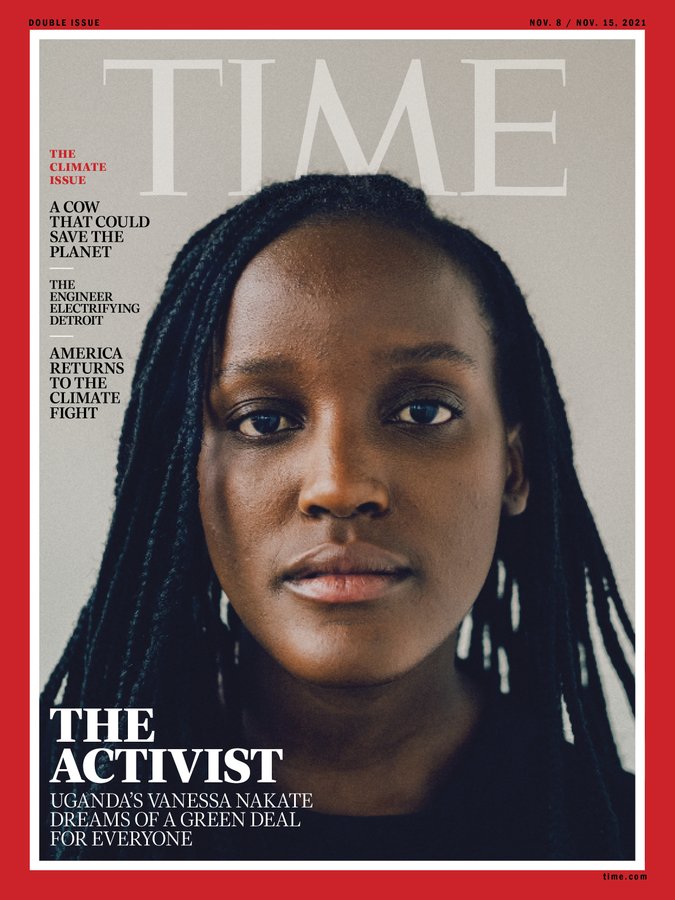 Alongside Vanessa, on the other three covers for the TIME Magazine editions have profiled John Kerry, profiled who is undertaking a late-career act as Joe Biden's climate czar to return the U.S. to global leadership in these efforts. Featured on another issue is Ford engineer Linda Zhang who has electrified the most popular truck in America as a promise of technological innovation.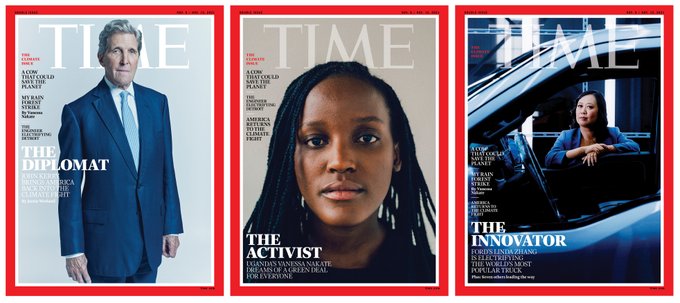 Vanessa Nakate calls for listening to the voices of others like her;- "You Cannot Leave This Responsibility to Young People.
Highlighting the importance of global collaboration at COP26, TIME's Cover Painter/ Illustrator Tim O'Brien remarks:
"Nothing globally is more urgent than nations dealing with climate change," says O'Brien, who notes that he added the empty chairs to reflect what is not being done. "The uninvited guest is how we all should see climate change, that it will drastically alter our comfort and future if not addressed."
Vanessa Nakate has continued to help lead the fight for climate justice. With her mantra, "We cannot eat coal. We cannot drink oil. Vanessa has become a powerful voice for an end to fossil-fuel investment across Africa,"
She in 2019 founded the Rise Up Movement and Youth for Future Africa, which aims to raise awareness about climate change in Africa.
Read Also: Bobi Wine, Vanessa Nakate, Eddy Kenzo & More named on the 100 Most Influential Young Africans List of 2020
As per one of her early endeavors, Vanessa started the Green Schools Project, a renewable energy initiative, which aims to transition schools in Uganda to solar energy and install eco-friendly stoves in these schools.
Nakate was also awarded the Nickelodeon Kid's Choice 2021 award in March this year in the "Together for Good Africa Award" for her efforts to educate society on the effects of climate change.
Congratulations Vanessa! Do check out her book;– A BIGGER PICTURE: My Fight to Bring a New African Voice to the Climate Crisis that'll be out come November, 2nd, 2021.