While performing most recently at Roast and Rhyme, Vinka put on a show as a celebration of five years since she joined this high competitive music industry.
This means that 5 years ago, we got introduced to her side as an artist, that was in 2017; since Veronica Nakiyingi Lugya also professionally known as Vinka first served as an artist manager, and later stepped into her higher power by embracing active music, having been nurtured by the incredible team at Swangz Avenue.
A coupA couple of years down the road, she has now become a household name when it comes to music and secured a recording deal with Sony Music Entertainment Africa in August 2019, but while retaining her bookings and management deal with Swangz Avenue.
This week on Monday, the two parties renewed their working relationship by extending her contract and this ceremony took place at the label's offices.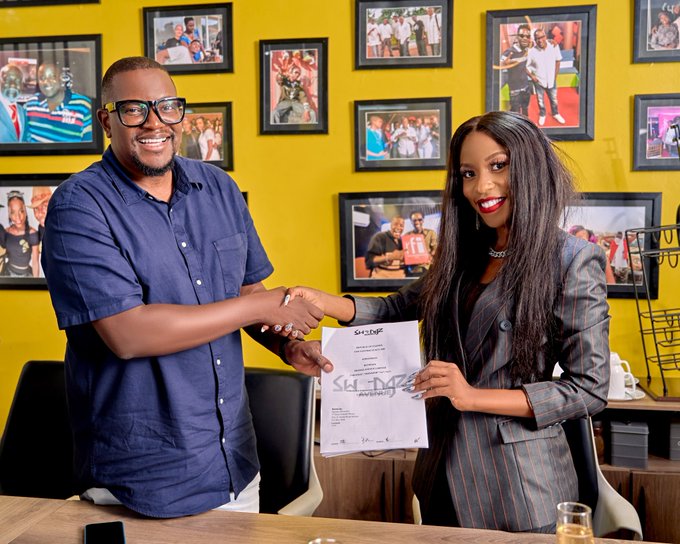 Swangz renewed Winnie Nwagi's in 2020, having previously signed a new talent 'Azawi" in October 2019, and most recently Zafaran; making the total number of musical artists at Swangz Avenue 4.
While under this management, Vinka has churned out hits "Malaika", "Amaaso", "Bigambo", "Sure", "Nja Kusitula", "Thank God", among many others. So this contract renewal, is a reaffirmation of more hits being on the way from the 27-year-old.
Watch the contract signing ceremony highlights below: