In every artist's career, there comes a time when they wish to take things a notch higher; and establish themselves as a powerful force in the industry, usually by releasing an EP, a full-length album, going on tour among many other strategies.
The latest to join in is Yvonne Kushe, who you might very well know from her 2019 break-out single; – Ngambira; which was a song seeking reassurance from a love interest that keeps tossing the singer's feelings around and takes her for granted.
Yesterday saw Kushe host a couple of friends, family, fellow singers, and members of the media fraternity for the launch party of her maiden "Kushe Unchained" album at Saba Onomo Hotel in Nakasero at an event hosted by Radiocity's Cynthia Tumwine, as put together by House of DJs, Montage, YHWH, Vodo and 97fm Radiocity.
The event was opened by JC Muyonjo who treated the attendees to a set of acoustic performances of some of his old and new material from his AFROSPHERE album, and his widely commercially acclaimed "Uber Guy" by the poolside.
Among other performers was Body of Brian, DJ Trevor & Chapati who both put on enthralling sets of house music, amapiano, afrobeats to set the mood just right, and then there was a performance by the main celebrant of the night; – Yvonne Kushe.
She made a cinematic entrance onto the stage in a wedding gown, for her first set of a performance and Q & A session as she sang "Don't Tell" the lead single off her forthcoming 8track album.
Kushe while in a Q & A revealed that she chose to don a wedding gown because she at this point in life has chosen to "marry her passion; – music", because that's what "Kushe Unchained" the album means to her.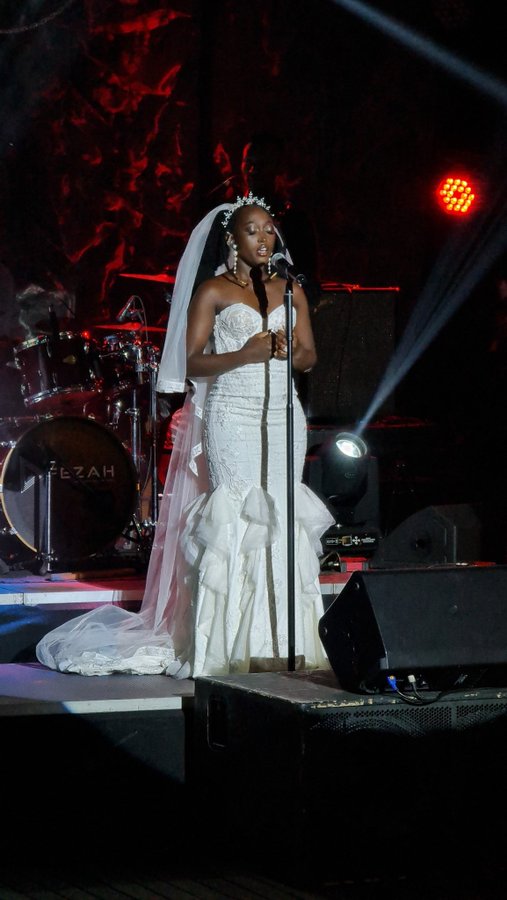 "Unchained has become an anthem for me. When I began recording this album, I didn't think it'd be possible. I was too busy listening to the voices in my head, so when I got over that, when I unchained myself from these thoughts, I created this album, as a commemoration of this experience of me letting go of the insecurities I had built myself", revealed the "Kulikayo" singer while commenting on the inspiration behind the album.
The Canadian-Ugandan singer added that the "Kushe Unchained" album covers themes: heartache, healing, feminism, loneliness, resilience, and life.
"I had moments when I dealt with loneliness, mental health, and feeling a bit out of place, an unhealthy relationship upon moving to Vancouver Canada, so this album is all about how I overcame that, while rebuilding myself.", she concluded.
Kushe then wrapped up the night with a performance of the much anticipated "Ngambira" where she was joined by fans, and pulled it off with assistance from by the band on the saxophone and an electric guitar in the background, and of course what's an event as glamourous as this without photo-taking moments? So, the album launch ceremony was capped with photography capturing moments.
The "Kushe Unchained" album will be arriving to all major music streaming and downloading sites in a few days, for now, listen to "Kulikayo" below, as a warm-up.