It all starts with a song. You write a song, or you find a song; the song moves you and you want it to move the world. So, you record and distribute that song as a single to platforms like Spotify, Apple Music, and YouTube. Once the song is available, anything could happen. The music could change the world, it could wow a few people, or it could go completely ignored. Of course, chance always plays a part, but the outcome is partially in your own hands. 🙂
The good news: We're living in an age of singles, and there are tons of ways to put one song to work.
The bad news: Every other artist has a new single to promote too, so you can't just drop a song into the world and expect it to reach people without some effort and advance planning.
All I am saying is, there's a lot more to releasing a single than just throwing it up on Tidal or Spotify. There's a lot more to it than distributing your single worldwide via CD Baby, Amuse, Distrokid or whichever.
As artists, you are dealing in "attention economics." Gone are the days when you could disappear for three years to make your next album and expect fans to stay loyal. In our world of short attention spans, releasing music more frequently can play a significant factor in your success.
Platforms like YouTube even reward artists who hit milestones, for putting out songs and videos on a regular basis. Obviously, you can't (and shouldn't) bang out a full album every two or three months, so instead: singles!
The upsides of releasing a digital single:
It costs less to produce one song (compared to a whole album)
Modern listeners often favor singles/playlists
Concentrating on one song at a time helps you focus your marketing, video production, etc., so you have the opportunity to turn each single into an event
It's a moment to reconnect with or grow your audience
It's a low-risk chance to experiment with promotion strategies and learn what works (and doesn't)
And best of all, putting out singles is fun
The downsides of releasing a digital single:
Albums show the world you're serious; singles don't
Albums can convey more about your story and brand; singles say less
Your fans can grow numb to "new single" announcements if you release music too often
It's harder to merchandise a digital single.
So, let's dig into the best-practices for releasing singles. I'm not sure if they all count as "strategies," but they're certainly all-important considerations.
In most cases, I'd give this advice: You should absolutely release a single FIRST if you've never put out music under your current artist name!
None of your plans will matter if the song sucks. Obvs. So, don't just release singles 'fwaaa'. The music still needs to be compelling! That can mean it's a catchy hit single to please new fans or a demanding artistic odyssey to please your diehards. But SOMEONE needs to be pleased.
Set a release date for the song at least a month in advance and use that time to generate energy for your song! PROMOTE your single, ahead of time AND after it's released. Now for promotion. To have a successful release; it is important to plan ahead.
2020 is the year of video, so the RIGHT song might just mean the right 15 seconds. What does that mean? Well, we're living in a short-form video age. With the huge popularity of TikTok, IG Stories, IGTV, YouTube, Facebook, Snapchat, and other platforms where users are hungry for quick videos, there is more you can to utilize tools. How?? Could be your question. As an artist you can take out moments from the song's part that is catchy and could receive viral attention, inspire listeners to make videos of their own (such as TikTok challenges, dance contests, caption contests, duets, covers/ remixes (if you are an electronic dance artist).
Make your music more playlist-friendly. The industry is focused on playlists these days, and that's fine; playlists can generate a ton of streaming activity. Not all playlist activity leads to real fan engagement though, so instead of artists jumping through a bunch of hoops to game the playlist system du jour,  I'd still advise you — above all — to make the music YOU WANT to make and try to reach fans the usual ways (performing on shows, making cool videos, running social ads, etc.).
As discussed in my article about Spotify, it is key to be aware of the trends in music as of 2020: avoid long intros and outros, people are impatient and can skip songs very easily. Don't tempt them. Get to the goods (be direct to the point); you could lead with the hook or chorus. Also keep your songs under (it's best to keep your songs between 2.5-4 minutes long. Under 3 minutes would be the goal for maximum playlist-ability.) A song of such a length is likely to get sustained plays.
Choose the right distributor. When you sign up your single for distribution to Spotify, Apple Music, Amazon, and other digital music platforms, you should know that good distribution is about much more than pushing digital files from one place to another. CD Baby is the most recommendable, and has been paying artists weekly for more than 20 years. As listed in my article about choosing a digital music distributor, CD Baby doesn't charge annual fees, so you never have to worry about a growing annual bill just to keep your music available online. They offer a number of OTHER monetization solutions for your music too, and artist who distribute with CD Baby's music can earn them money through: Streaming, Downloads, Global music publishing revenue, Content ID on YouTube, Social video monetization on Facebook, Instagram (stories), and Oculus, Sync Licensing & more.
Here's various ways you can share the message about your single/ album prior release:
Communicate through: hints and teases, images, videos, facts and backstory about the song, and more.
Having set up your pre-save/ pre-order campaign. Split pictures to create Instagram grids. These you can start slowly teasing the cover artwork by splitting it up into nine smaller images for Instagram. When a viewer looks at your profile at the end of the week, all five/six/nine whichever number of the smaller images formed a grid revealing the full artwork. Every time you post, it is important to share the pre-save link whenever you post updates about the release ahead of its drop date. I think the artist who has perfected the art of Instagram Grids has gotta be GNL Zamba. He really crafts his posts about his releases very well. The musician I saw make good use of this feature was Vinka on her release 'Love Panic', a pre-save was in bio and each time she posted, she would encourage them to go tap it, also A Pass did great with the Pre-order for his second studio album –  'African Yayo'.
You could also utilize online music media such as blog premieres for your song or video, playlist placements, asking music bloggers to post reviews of your music on their blog and include your Smart URL. The same goes for any press releases you publish. More to it could be out-of-the-box options such as publicizing your music to any relevant corporations, fan groups that might resonate with your music or the topic of the song. (This move is also great for targeting bookings and brand endorsements).
The song might be enough. The story and hook might be enough. But there could be some casual fans who won't make the leap and check out your song unless there's some additional benefit (like a prize, etc.). This is where 'challenges/ contest' come in. It is here where an artist/ label would choose an overall/ group of winners depending on the set metric.
You could also run a Facebook/ Instagram/Twitter ad to a targeted group of people who like similar artists as you/ your type of music. All these extras could push someone to press the save, buy, or play/ share button of your single.
Another proven strategy is creating a lyrics video for your song. When one watches it, they'll be interested in seeing the music video when it's launched. And because video is one of the most sharable forms of online content, releasing one is also a great move. As a music creator, you could capitalize on this the more, by share a Smart URL / Link to your single in the description section of your video. It drives in streams, and downloads.
I'll re-echo this; Get your single added to as many playlists as possible. The biggest indicator of a song's success on streaming platforms is the number of times it's been added to playlists on the platform. In some cases, a song placement on a prominent playlist can net you more listeners.
SMART LINKS & THE BENEFITS OF USING THEM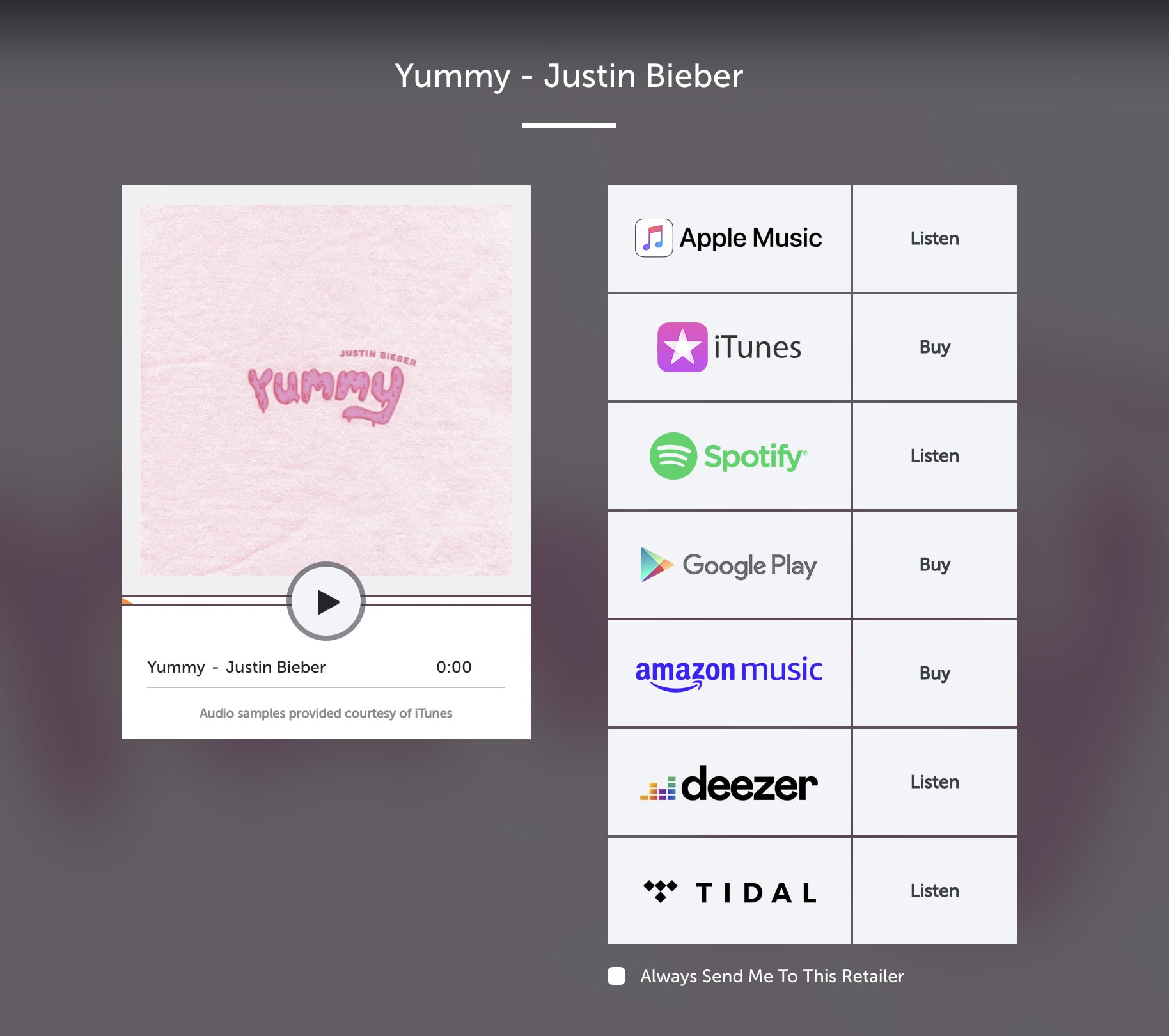 When it comes to marketing your music online, a tool/service that every artist needs is a smart link for your music releases. For those who are more marketing savvy, you may know it as a landing or pivot page. Although Spotify is the most popular paid streaming service, not everyone may use it/ find it their favorite. This is where a smart link or music landing page comes in.
A smart link directs the user to a web page that contains links to all the different places people can buy or listen to your new release. In some cases, you may want to include other relevant links, song snippets and videos in your marketing efforts.
In other words, this smart link is what you would use in your call to action to promote your new release in your social media posts, Instagram URL (Uniform Resource Indicator)., newsletter, IG Stories, etc. You can also leave this smart link in the YouTube or Facebook description of your music video so viewers can follow up on what platforms they can stream or download it. Another Major Benefit to using Smart Links: Saving Time. Smart URLs are great for music promotion on your social media channels, as they look more professional. People are far more likely to click on them, and this can help to build your fan base – all from one simple link!  Smart URLs are super useful when it comes to getting in contact with music agents or promoters, as you can just send them a quick email with one link that will tell them all of the relevant information that they need to know about you and your music. Once you are through with creating your smart link, Smart URL providers automatically generate pivot bypass URLs for each music platform. It's basically a trackable link that takes visitors directly to a specific music platform (music outlets where the single can be streamed or downloaded) instead of the pivot page. This tool also allows listeners to hear snippets/ a sample of the song/ album/ EP before they can make a decision.
Some of the best smart link options/ providers for music out there (free and paid), here's list of a few of them. Some of the Smart URL providers include: ToneDen, SmartURL, LinkFire, LinkRedirector, Feature.fm, Hive, Linktree. Odesli (formerly Songlink), HearNow (only available for those who distribute through CD Baby), HyperFollow (from DistroKid).
For most, creating a Smart URL, starts with one step: signing up. Once you confirm you email and activate your account, just click on 'create link' to get started. Having finished adding all of your relevant links and customizing your page, just click on the 'Save SmartURL' button and marvel at your masterpiece!
Top tip: personalize and customize your Smart URL as much as you can. This way, your brand will become recognizable and memorable – two things you definitely want to be! So, what are you waiting for? Create your Smart URL today, and watch your fan base (and your ticket sales) grow beyond belief!
Regardless of where you are in your music career, it would be "smart" to create a smart link for every release. There are tons of these smart link services out there, but they all essentially do the same thing. The ones covered in this blog are generally the more popular options. If you have a music video uploaded to Facebook, YouTube or IGTV, be sure to include this smart link in the description.
There you have, go make that money from your craft dear music creators. 🕺 Best of luck! 😊 Remember, I am rooting for you. 🙃