'Starboy' singer The Weeknd shined brighter than ever Sunday (February 7) when he rocked Tampa's Raymond Jones Stadium as the headliner for the Super Bowl LV halftime show.
Drawing on 10 years' worth of hits including the likes of 'Can't Feel My Face,' 'Earned It,' and – of course – tunes from his top-selling 2020 'After Hours' album, the 'Blinding Lights' star dazzled viewers with a jaw-dropping array of pyrotechnics and cutting edge technology.
Joining the hallowed halls of history-making headliners Michael and Janet Jackson, Madonna, Beyonce, Lady Gaga, Prince, and many more to headline the Pepsi Super Bowl Halftime Show on Sunday (Feb. 7). The Toronto superstar turned Tampa into Sin City for the 14-minute hit-filled extravaganza that kicked off in the stands at Raymond James Stadium, where the Kansas City Chiefs faced off against the Tampa Bay Buccaneers in Super Bowl LV.
As "Call Out My Name" echoed throughout the stadium, the stage parted before Abel Tesfaye emerged in his signature After Hours red blazer for a clean version of his 2016 smash Starboy  (as promised when in an interview that he'd definitely will try to his best to keep it PG for the families. . In the days leading up to his halftime performance, The Weeknd also hinted that he would keep with the theme that he's been working on in conjunction with After Hours, but doesn't plan on pushing the envelope. "I definitely want to be respectful to the viewers at home," he told Variety. "I will still incorporate some of the storyline [from the videos]—it's a very cohesive story I'm telling throughout this year, so the story will continue, we definitely will keep it PG for the families. I'll do my best."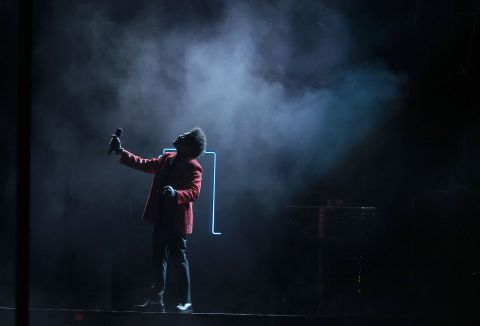 Backed by a choir dressed in white robes, he continued with "The Hills." The 30-year-old crooner then went backstage for "Can't Feel My Face" as bandaged-faced dancers joined him in a glowing corridor as the camera spun circles around him. Fireworks lit up the night sky as The Weeknd powered through his Daft Punk-assisted hit "I Feel It Coming" and "Save Your Tears" before being joined by an orchestra for "Earned It."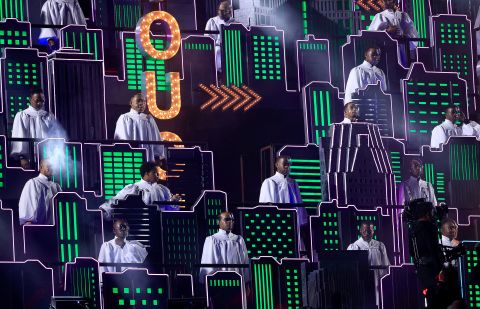 For the explosive finale, he brought the show to the field. An army of bandage and blazer-wearing dancers marched alongside The Weeknd as he closed out his Super Bowl spectacular with his No. 1 hit "Blinding Lights." Here's the full video of how the 30-year-old handled the stage of the biggest spectacle on Earth.
Stream the Halftime visual album across all digital platforms as you catch all the moments featuring H.E.R, Jazmine Sullivan and more plus and major highlights from last night here. Full pictorial highlights are available here as well.