Uganda Breweries Limited will commemorate 75 years of existence with a special anniversary celebration to last 7 months. To be held under the theme "Brewed by Uganda", the celebrations will highlight the past, present and future of the brewery establishing its mark as a leading manufacturer. The celebrations will lead up to the company's 75th anniversary on July 27th 2021.
During the launch held on Tuesday at Seven Trees in Kololo, guests were thrilled with entertainment by Afrigo Band's Joanita Kawalya who took them down memory lane with her popular songs from the years past. Guests also enjoyed performances from rising singers Zex Bilangilangi and Azawi, who represent the present and future of Uganda's music industry.
Registered in 1946, Uganda Breweries Limited has become one of the greatest truly Ugandan iconic brands dedicated to celebrating and transforming lives in Uganda, East Africa and internationally.
"Uganda Breweries Limited is standing on the shoulders of strong giants, both people and brands, who we need to honor and celebrate for they gave us a strong foundation. We appreciate the support and commitment of our different stakeholders including consumers, distributors, farmers, suppliers, service providers, communities and government, who have walked with us on this journey for more than seven decades, and we are honored to continue being of service in the coming years." Commented Alvin Mbugua, the Uganda Breweries Managing Director.
Today, we officially unveil our 75th Anniversary celebrations. Since 1946, @UgandaBreweries has been proudly intertwined with Uganda's social and economic fabric, and we are doubly committed to making the future of this relationship bright beyond imagination. #UBLat75 pic.twitter.com/vq05yALBUt

— Alvin Mbugua (@MbuguaAlvin) January 5, 2021
As part of the anniversary celebrations, Uganda Breweries Limited has kicked off a UBL@75 media competition, aimed at rewarding journalists with iconic memories or experiences. To be part of the competition, journalists must submit photos, videos, or story telling details of their experience with UBL or any of the brands, and be able to win cash prizes totaling up to UGX 7.5M.
As part our #UBLat75 celebrations, we will hold a media competition aimed at rewarding journalists with iconic memories or experiences of UBL or any of it brands, with cash prizes totaling up to UGX 7.5M. #BrewedbyUganda

— Uganda Breweries Ltd (@UgandaBreweries) January 5, 2021
"Media has been instrumental on the success of this 75-year journey. This competition is meant to appreciate and reward journalists for walking the journey with us as we recreate old memories that we have shared together. To participate, journalists have to submit iconic footage from past UBL events held in the 70s, 80s, 90s or early 2000s, or share a story with pictures of their most memorable experience of UBL or any of the UBL Brands to stand a chance of winning." Said Juliana Kagwa, UBL Corporate Relations Director.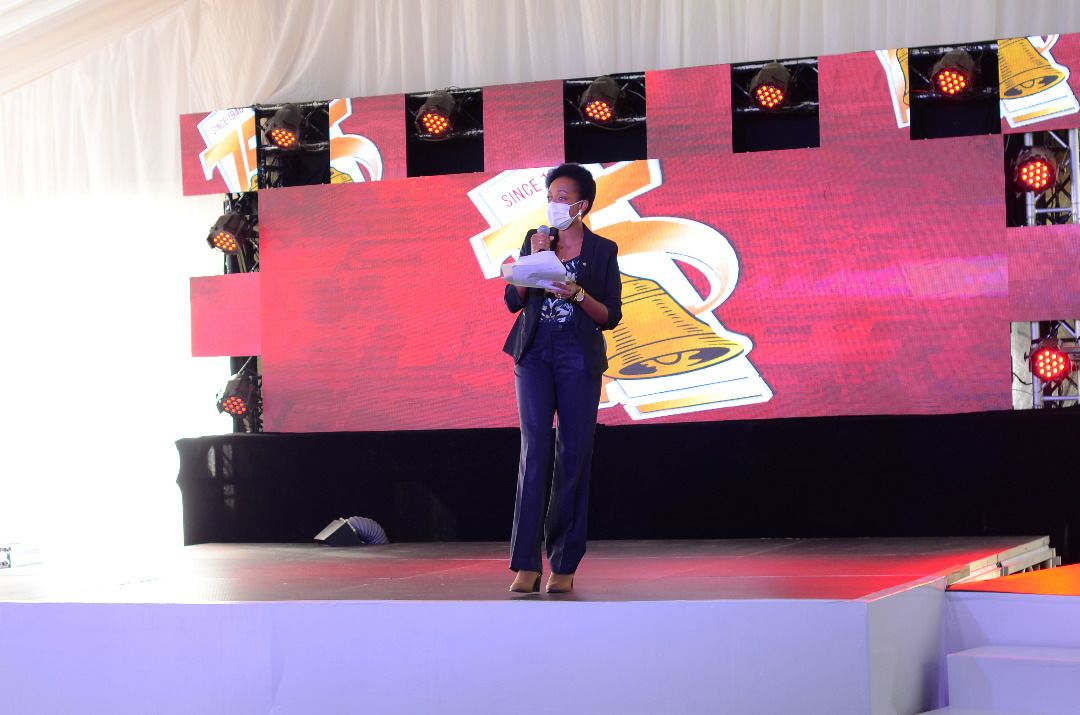 UBL's product portfolio has grown over the years from one brand – Bell brand in 1950, to becoming the biggest alcoholic beverages company with the richest brand portfolio consisting of 10 beer brands, 42 spirit brands, 3 ready-to-drink brands and 1 non- alcoholic beverage.
"You don't thrive in business for 75 years by becoming antiquated and old, but quite the opposite – by staying on the forefront of innovation, and always seeing the next big thing in service, process or operations before it becomes a trend, as Uganda Breweries Limited has always tried to do." Mbugua noted.
The "Brewed by Uganda" celebration will also feature a multi-dimensional expedition dubbed, "The Coaster Sound System" bringing together the old-hands and the young progressives to brew a new sound of celebration, all while telling the beautiful story of the UBL journey and the community UBL has brought together.
Written as assisted with context from Big Eye UG.