About a week and a half ago, social media was awash after a major mishap happened. This involved premium insurance firm; Britam Uganda after comments blasting bakers of the cake that was cut during the celebrations to mark one year since the Uganda carrier (Uganda Airlines) returned to the skies were all over as spewed by the internet citizenry. The cake, baked in the shape of a plane became the brunt of social media trolls, with some social media users likening it to a whale as others said it looked like it's breathing and others a sunken ship.
Following the constant trolling, Britam therefore sought to make amends and thereby in a press release stated that it was launching a baking competition acknowledging that; 'because we did not get it right the first time'.
"We tried baking a cake and fell flat on our faces! You may have seen unflattering photos of what was our attempt to celebrate Uganda Airlines' First Anniversary circulating online… Well, we agree with a majority of you who said the cake did not do justice to this massive milestone and the occasion at hand," read a statement released on September 7. This therefore meant that the cake gifted to the carrier did not live to the expectations of the public nor the cause.
Calling out all bakers! Show us how we can be better with the #BritamBakeOff. Your @UG_Airlines cake will be fully paid for & Britam + Uganda Airlines will make a donation to a charity of your choice!
Register here🔗https://t.co/tvHpytOyDR pic.twitter.com/Mx2G8LzslW

— Britam Uganda (@BritamUganda) September 7, 2020
To redeem themselves, Britam thereby proceeded this acknowledgment with a call to the public to participate in what would be dubbed as the "Britam Bake Off" challenge where bakers will be asked to provide the best cake products. It noted that the best design would be funded to bake and personally present the cake to Uganda Airlines in addition to delivering a donation to a charity of their choice courtesy of Britam Uganda and Uganda Airlines. The next four bakers would also not go unrecognized as each would also receive a contract to bake a cake for four charities within Kampala while also handing over donations.  Interested bakers were advised to upload their digital profile and cake design, sketch, or ideas; with a deadline of 5Pm, September 9, 2020.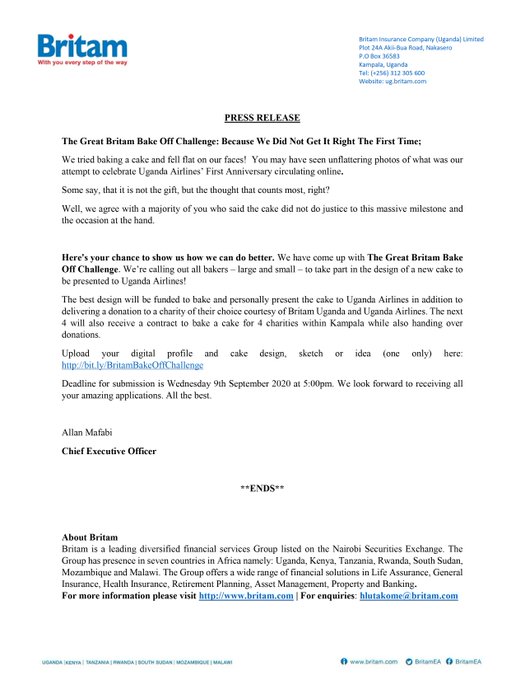 Over 120 submissions for the challenge were made, as revealed by Britam Uganda via their social media channels, as they thanked the public for the response. Out of these, 23 were to be shortlisted, so the public who vote for their favorite ideas/ designs and baker.
The wait is over: Excited to present our shortlist of 23 bakers for the #BritamBakeOff. Vote your favourite baker and get them into the Top 5!

Voting closes in 24 hours – Click here to vote: https://t.co/w12pN8EzJV pic.twitter.com/TG52wBfn0I

— Britam Uganda (@BritamUganda) September 11, 2020
Last night, Britam revealed the top 5 and these included; Cake Album Uganda, Seasons of Joy Creation, Nalwadda Mariam, Cilla's Oven, and D'Cake Fairy.
🚨The results are in!🚨#BritamBakeOff

Congratulations to the Top 5 bakers who will now be funded to bake their cakes and also select a charity of their choice that #Britam and @UG_Airlines will make a donation to. Let the baking begin! pic.twitter.com/ROJzTv1bIw

— Britam Uganda (@BritamUganda) September 13, 2020
Meet our Top 5 #BritamBakeOff Finalists [THREAD]

As we countdown hours until we unveil the winning cake, we catch up with the Top 5 finalists on what it means to be part of this challenge & their charities of choice for the donation by #Britam & @UG_Airlines!

— Britam Uganda (@BritamUganda) September 17, 2020
The Great Britam Bake Off Challenge Cake Handover ceremony happened today at the Entebbe International Airport, where the Uganda Airlines Head offices have head office, and event was attended by news reporters, journalists, digital media gurus, among other dignitaries. Speaking at the event, the CEO Britam Uganda, Mr. Allan Mafabi, noted "We are gathered here today for an important occasion. As they say in the movie industry: Cut! Take Two!" Our initial gift to celebrate the first year anniversary of Uganda Airlines didn't hit the mark and because of it, a poor view of our country's airline was beginning to form the Bake Off. We were deeply saddened by our mistake and knew that we had to take responsibility and take the necessary steps to make it right. So, we reached out to you, our fellow Ugandans to help us get it right after our partner, Uganda Airlines gracefully gave us the opportunity to redeem ourselves. Your response to our call didn't fall on deaf ears and you showed up in numbers, sending in your applications for the bake off Challenge to show us how we can do better and help us get back on our feet again.
This experience has been humbling for us at Britam, we have been astonished by the massive responses and feedback from fellow Ugandans to our call. Your cake ideas were all marvelous and very impressive, and we were glad to see them all come together to celebrate Uganda Airlines' anniversary once again.
Mr. Mafabi also congratulated the finalists – D'Cake Fairy, Seasons of Joy Creations, Nalwadda Mariam, Cilla's Oven and the eventual winners Cake Album UG – we thank you for stepping out and showing up with eagerness to give Uganda Airlines the cake they truly deserve and represent how outstanding it is that they are celebrating their first anniversary. He closed it by once again appreciating all participants for their bravery to take on the challenge, brilliancy and for their hard work and timely  delivery.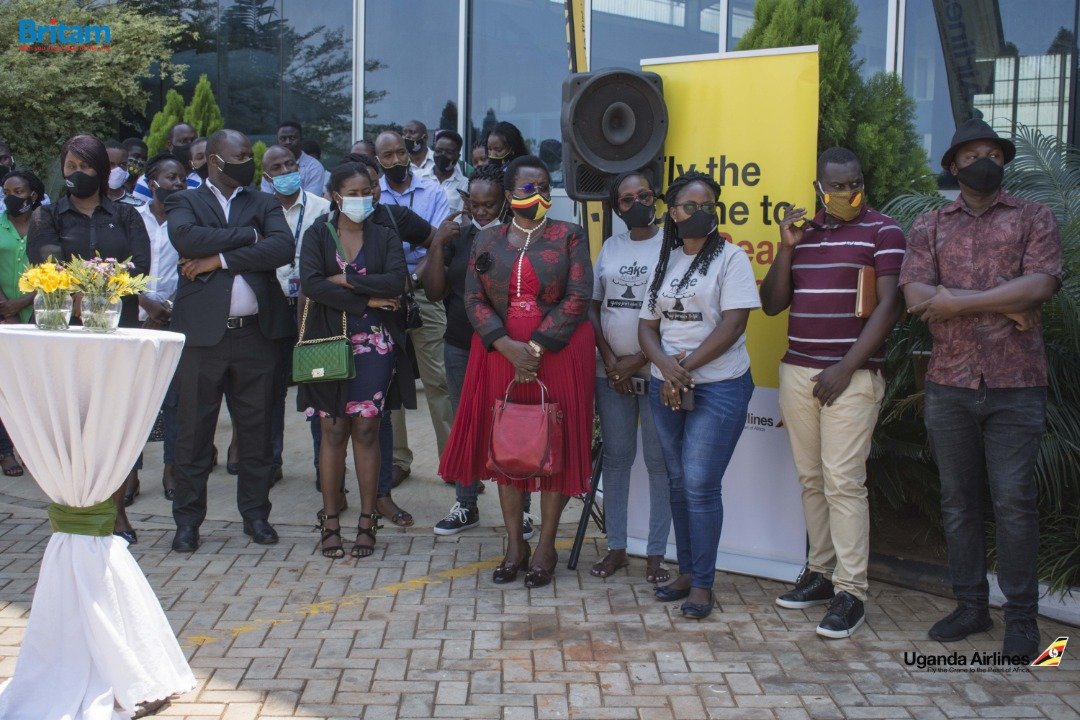 In the same vein, Atuhaire Ritah, a broker and trainee with Britam added that "The outcome of the Britam Bake Off challenge" is a true example of how, when we come together, we can do amazing things to show our appreciation for our country. And for that, we are eternally grateful. May the donations and proceeds that will be given to the charities of choice bring a smile to our faces just as you have brought a smile on ours. To our dear client Uganda Airlines, we hope that this experience has been equally gratifying to you as it has been to us."
The CEO also revealed that the firm is to make the Bake Off an annula event, which will see various bakers participate, and of course use this opportunity to give back to the communities through charity. 
He also commended the flyer for reviving the country's airline and the effort and endeavors they have made have surely not gone in vain. "The success you have achieved under a year is highly commendable and we are proud to be witnesses and partners of your success. This is only the beginning of the many accomplishments you will achieve and we are confident that your best years are yet to come even as go on to achieve more in the years to come." As an ally to you, we will endeavor to always provide you with the necessary insurance cover, financial security and commercial solutions you need to continue to secure your future and bring even more success to Uganda Airlines. We are in this for the long run, to guide, support and cheer you on. Like we say and promise at Britam, we are with you every step of the way! Happy 1st Anniversary to you our dear client Uganda Airlines. Thank you very much for trusting us.", concluded Britam Uganda's CEO.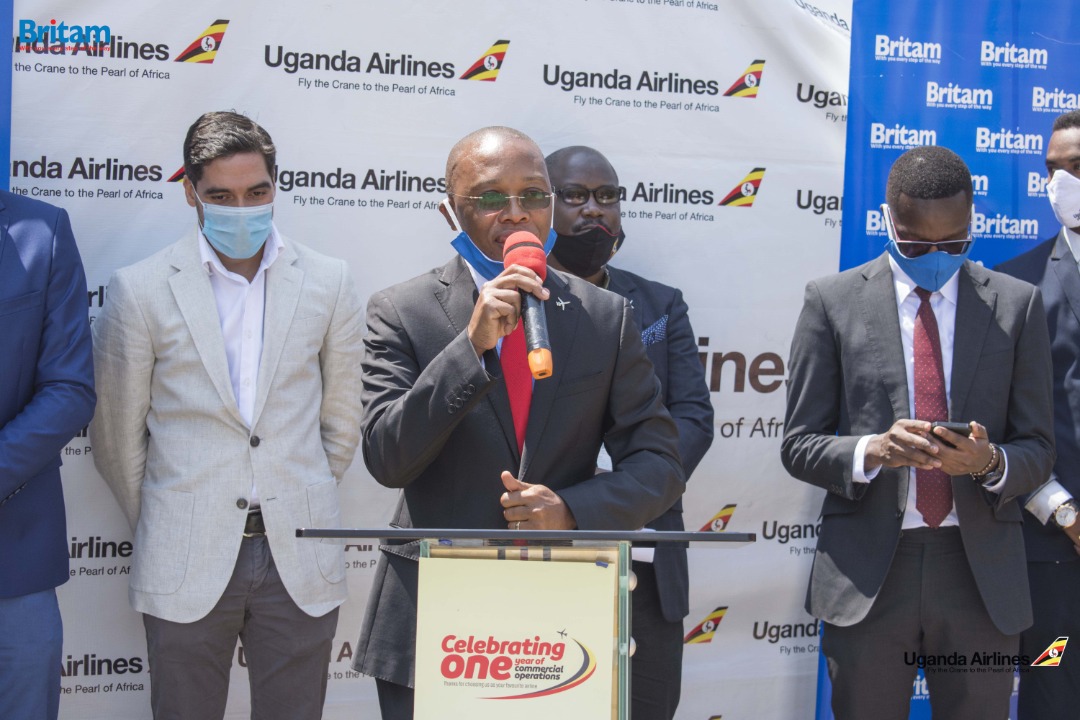 Since the Uganda Airlines hit the skies again, the airline has flown over 75,000 passengers to and fro the Entebbe International Airport, having had its inaugural flight from Entebbe to the Jomo Kenyatta International Airport, Nairobi. This was revealed by the Chief Executive Officer of the carrier Cornwell Muleya as he accepted the cake on behalf of the Uganda Airlines.
Each of the winners said a word or two with most disclosing the charities they wished the firm to donate to. ☺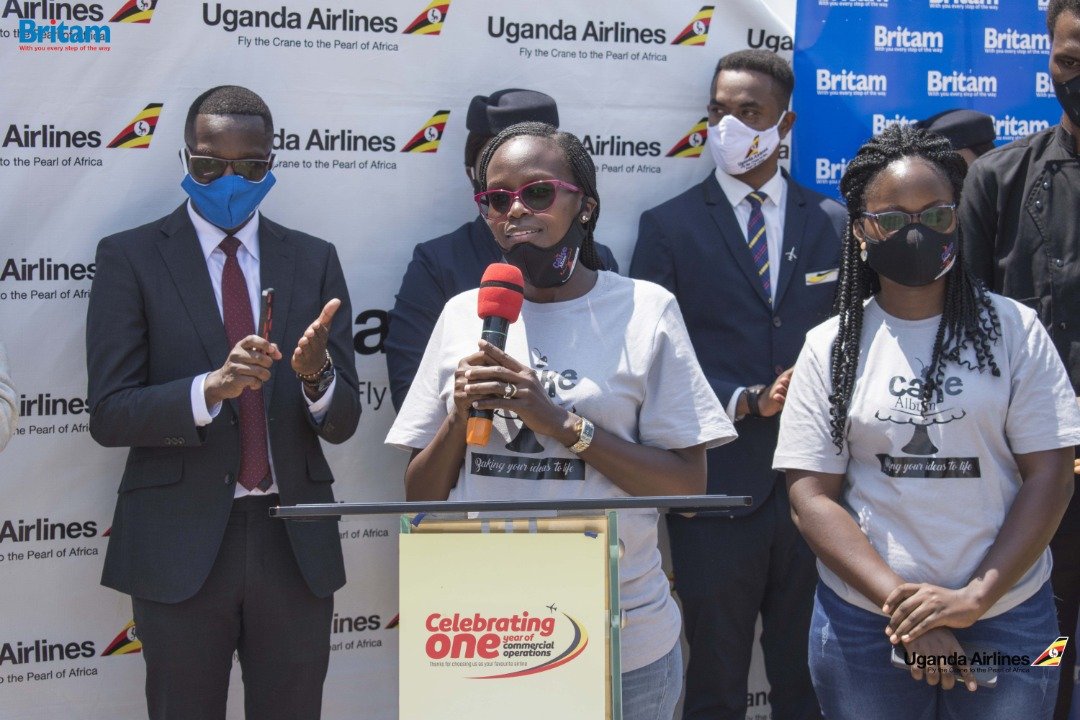 The event was crowned with a cake cutting ceremony, of the winning team, and served to all those in attendance.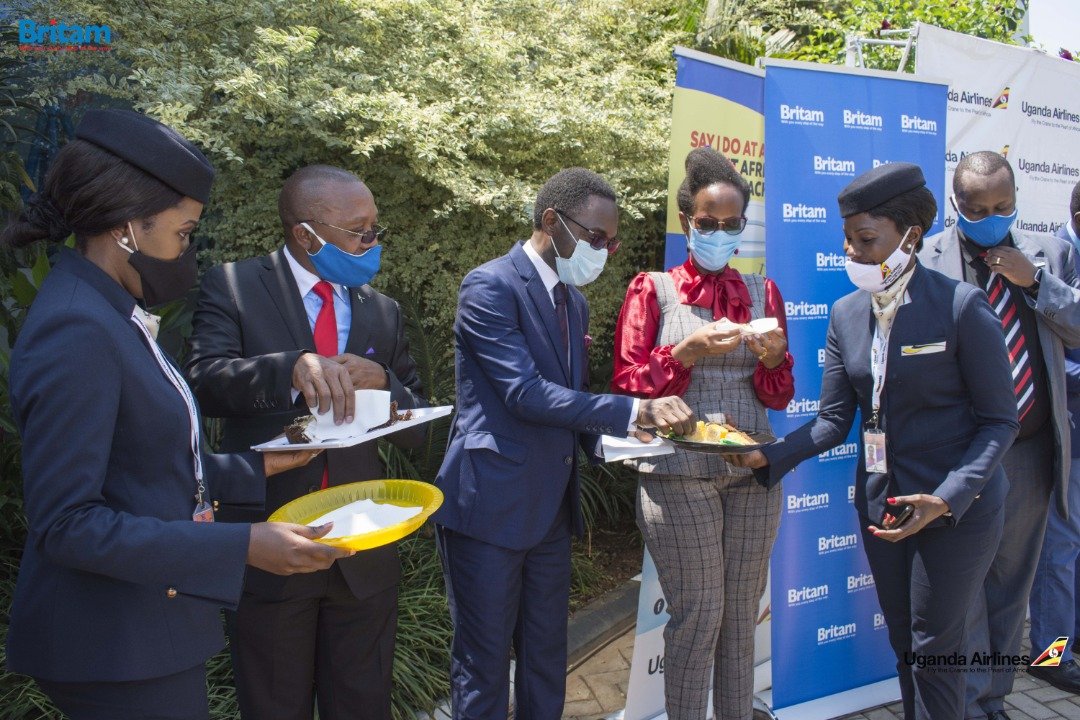 Congratulations to the Uganda Airlines upon their milestone and to Britam for coming back stronger.