In a press conference held at Golf Course Hotel in Kampala earlier today, the Uganda Tourism Board and the Ministry of Tourism announced Joshua Cheptegi as one of the new faces of Uganda's tourism.
Cheptegei's tremendous work in the sport Fraternity locally and internationally as he broke records across the world. He personally has done a lot for Uganda's tourism even before he was picked as the new ambassador of this industry.
He will be joining the list of many Ugandan Icons like Anitah Fabiolah, Eddy Kenzo, to help influence the tourism industry both locally and Internationally.
Uganda Tourism Board CEO Mrs. Lilly Ajarova said that the Uganda Tourism Board and Joshua Kiprui Cheptegei had entered a one-year partnership that leverages his stardom, his love for Uganda, and the vast number of platforms available to him, to help promote and market Uganda as a preferred tourism destination for both domestic and international tourists.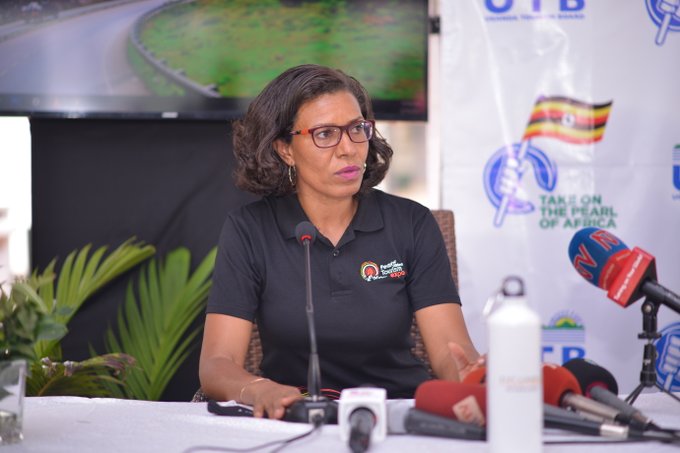 Commenting on what this endorsement means to him, Joshua remarked: "This is a mutually beneficial partnership in which UTB shall collaborate with Cheptegei and support his athletics activities at both the domestic and international level and earn his approval and access to his platforms to promote brand destination Uganda.  It is both a challenge; I now know more and more Ugandans will be looking up to me, but it is also a blessing and a motivation because I learn more and more Ugandans will pray for me to win. But perhaps even more important, I am now even more motivated to give every race my all because I know every win is not just for me- but it is a win for each of the 700,000 Ugandans employed in the tourism sector, whose livelihoods have been put at stake by the Covid-19 pandemic." 
"I am delighted to be here this morning- to express solidarity with all the players in Uganda's tourism industry, as they seek to rebuild an industry that has been nearly destroyed by the Covid-19 pandemic." – @joshuacheptege1 #VisitUganda #JoshuaCheptegeiForUganda pic.twitter.com/qavQqOYOGD

— Uganda Tourism Board (@TourismBoardUg) February 10, 2021
Under the partnership with Cheptegei as the Destination Uganda Ambassador, UTB shall:
Brand Cheptegei and his team when engaging in sports activities on both domestic and international scenes.
Conduct a tourism destination training for Cheptegei and his team to equip them with tourism-related information and knowledge.
Manage Cheptegei's social media pages through UTB's branding and advertising agency to enhance his brand visibility.
Facilitate Cheptegei's in-land travel and welfare while undertaking tourism-related tours across the country.
Obtain the required permits to enable Cheptegei to access the National Parks and engage in game drives, boat rides, and gorilla tracking.
On his part, Joshua Cheptegei, shall:
Engage in and endorse tourism campaigns for marketing and promoting Uganda as a preferred tourism destination.
Promote destination Uganda during his domestic and international sports activities, dressed up in branded uniforms, and display the branded collateral.
Authorize UTB to use his image in photos, videos, and promotional collateral.
Engage his domestic, regional, and international athletics network and peers and encourage them to visit Uganda.
Create publicity and awareness of the tourism destinations in Uganda that he travels to during this MOU term.
Participate in and attend any other tourism promotion events subject to his availability.
Acknowledge, recognize and publicize UTB as the official tourism partner during press conferences, speeches, announcements, commercials, and sports events.  
Congratulations Joshua! 
Source: Mambo News
Related: MTN hands out symbolic prizes to Joshua Cheptegei for new 5000M World Run Milestone