Telecommunications Giant MTN Uganda has fulfilled its pledge to consumers by rewarding the inaugural batch of winners in its ongoing MTN TIDAL Playlist Challenge. This saw the 5 first set of winners be announced, and handed their cash prizes of Ugx. 250,000/= each over the weekend.
Related: TIDAL Rolls Out Song Lyrics Feature In New Update. Here's How to Activate It
On his part, Joshua Kamba one of the most consistent Tidal users couldn't hold back his excitement expressed his
appreciation to the company for being consistent with rewards for customers, and for enriching music experiences to ardent music consumers like him enjoy music from a variety of over 50 Million songs in their handsets. He currently curates playlists for Tidal as well.
Having entered into a partnership in 2018, MTN and Tidal have powered the music industry and music enthusiasts over the years. This saw the telecom launch the first of its kind contest of this very kind where yours truly emerged winner having had the most publicly favored (voted) playlist. 😉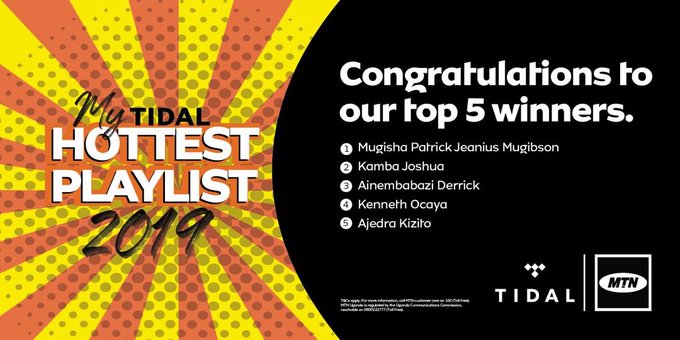 The maiden edition (2019) of the contest had the top-performing participants win amazing prizes such as Tidal subscription, shopping vouchers, and Tidal branded swag items like head socks, headsets, caps, phone sockets, wrist bands, & smartphones.
There aren't definite dates as of when the playlist challenge will be ending, for now, join in in congratulating this week's winners, and you too can keep taking part.
Participation is open to the public. All one has to do so as to stand a chance is purchase a weekly Tidal bundle/ subscription package (by dialing *165*66#), create a playlist of not more than 50 songs and post a screenshot of your playlist to Twitter with the hashtag #TIDALxMTN under the post to the MTN social media account.
Read Also: Navigating your way through MTN's  music streaming service TIDAL