It's that time of the year, when brands, corporations, and figures are recognized and rewarded for their general exhibition of excellence and competence over the year.
One of those avenues being the Evolve Uganda Marketing Excellence Awards, which are seeking to reward over 60 nominees in 10 major categories.
Established in 1994 in Uganda by Patrick Quarcoo and David Galukande, QG Group has been one of the nominees in this year's edition of the awards show, in the category of "Agency Of The Year" (Digital).
QG Group Uganda in its over 25 years of experience has designed, executed, and handled a cross-section of clients ranging from large commercial multinational brands to NGO's and government institutions such as Guinness, Milkman, Stanbic Bank, Ministry of ICT and National Guidance, Lugazi Sugar, Equity Bank, among others.
The Group's mode of execution is that it makes use of strategies that are globally anchored and locally relevant and with a great team of 'Guardians'. These strategies are carefully executed and used to present to their clients, exceptional results!
From Predict and Win & Black Shines Brightest with Guinness, TML Conversessions, gifting with Johnnie Walker, lending a helping hand with International Hospital Kampala, Growing Together with Equity Bank, memorable experiences with the Sheraton Hotel, the award-winning friend a Gorilla campaign and recently, their spirited efforts in the fight against Gender-Based Violence–to mention but a few, – QG Group has worked with quite a variety of brands and fronted numerous campaigns for them.
The Digital Agency is also partners with Publicis Worldwide, poised as the third-largest group of international advertising agencies, and have represented household names: Saatchi & Saatchi and Leo Burnett.
Its results created out of QG Group's undying dream to create love and generate profits for their clients through world-changing ideas, and the rebel-spirited belief that the impossible is nothing is truly worthy of rewarding.
Below is the procedure on how to vote the good people of QG Group Uganda in the Evolve Uganda Marketing Excellence Awards (2021) in the category Digital Agency:
Visit the voting site here, head/ Scroll down to the Agency Of Year (Digital) category and choose "QG GROUP". To be able to proceed/ confirm your vote's validity, key in your name and email address.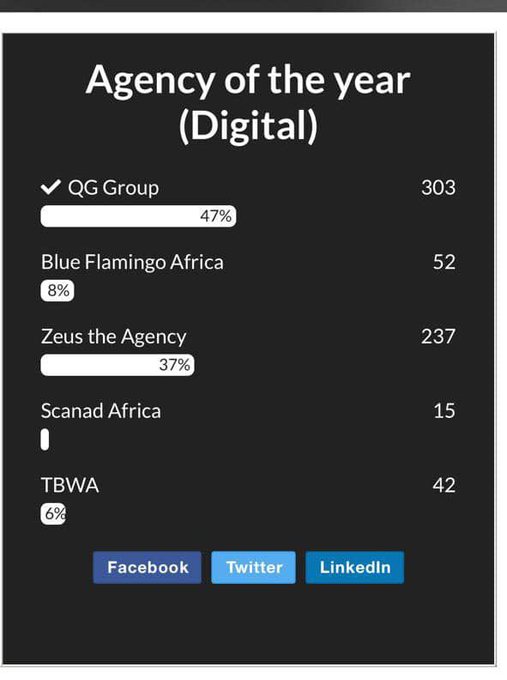 Voting closes 7th January, 2022.