Majority of the population has struggled with the fallout of the global pandemic, but it has had more consequences on the economy and social status of the vulnerable groups of people. These challenges have also accelerated their vulnerability to mental health issues such as depression, stress, and isolation. Despite the lifting of the national lockdown and opening of the economy in January 2022, the effects of the lockdown are still negatively influencing the lives of young mothers.
Read Also: 'Kyaddala, It's Real' To Become Second Ugandan Production To Stream on Netflix With Return Of New Season.
This is why Reach A Hand Uganda with support from Agah Khan Foundation this Friday officially relaunched the EC COVID19 response project to help teen mothers get back on their feet as a way of mitigating these challenges through distribution process of COVID19 relief items to vulnerable young mothers in Makindye Division; at Heritage village, which is located a few meters away from the RAHU Head Offices in Kasanga.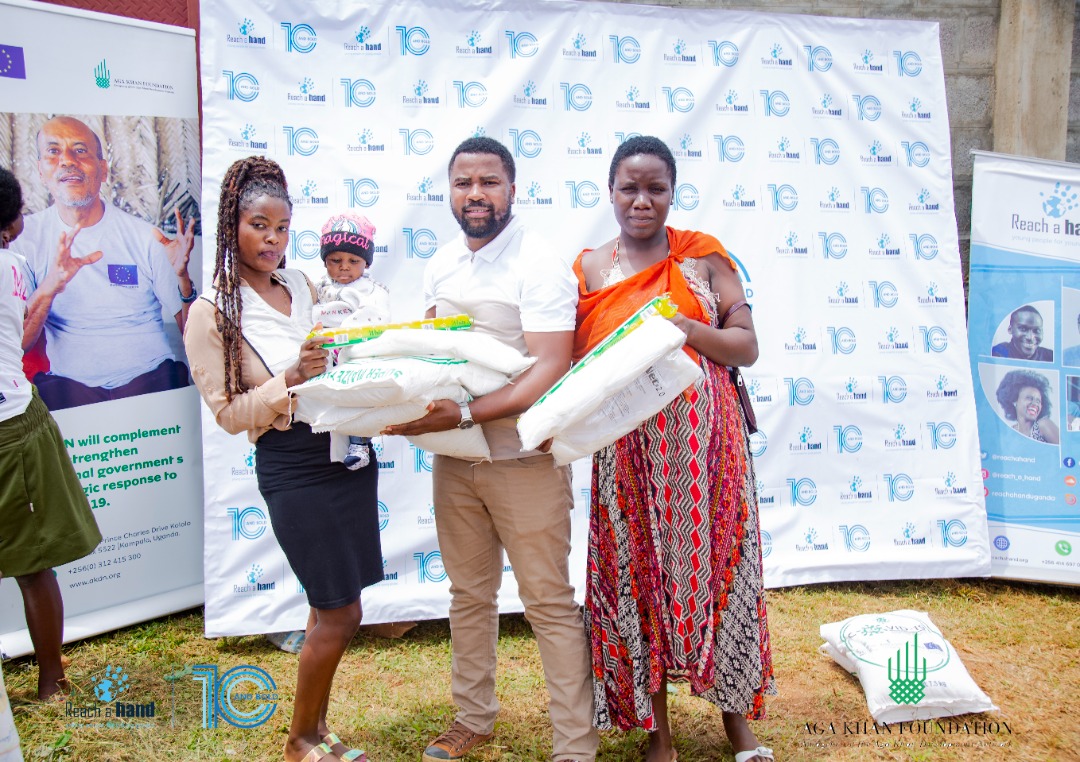 The outreach was officiated by singing both the Uganda and Buganda anthems and then remarks from the various stakeholders, leaders, and the beneficiaries from the program in the area.
22-year-old Atuhaire Harriet is a young mother from Heritage village in Kansanga shared her story of how she was left with a child by a young man who she also later found out to be HIV positive which left her life shuttered. With the help of the doctors, she was able to have a safe delivery and her child is also HIV negative.
Harriet was introduced to EC COVID19 Response project which according to her, has psychologically boosted her mental well-being and supported her with some basic needs. She also highlighted that there are many young mothers facing such challenges and believe that they are alone but that is not the case.
Stories like for the young lady above are what Reach A Hand and The Agah Khan Foundation are looking to impact with their EC-COVID19 Response Program.
The EC-COVID19 response project is a six months project that aims at providing relief and psychosocial support to identified teenage mothers (currently pregnant and those with children) in Kampala and Arua. Just like Harriet, these beneficiaries were identified through a survey that was conducted in both Kampala and Arua districts where a total of 1,000 young mothers from both districts were identified and will be supported by the project through providing for them relief items like hygiene kits (soap, hand sanitizer, facial masks), maternal relief (mama kits), and food (rice, beans and posho).
Kiwafu B Chairman Mr. Gonzaga in his remarks applauded Reach A Hand Uganda and Agah Khan Foundation for initiating the EC-COVID19 project and went ahead to say that this is how challenges brought about by COVID19 should be addressed. Mr. Gonzaga in his communication mentioned the alarming rise in the cases of drug and substance abuse, sexual gender-based violence, and other sexual reproductive health and rights challenges among young people in his area. He pledged and committed to supporting RAHU and Agah Khan Foundation in the implementation of projects like the EC COVID19 Response that aims to provide psychosocial support.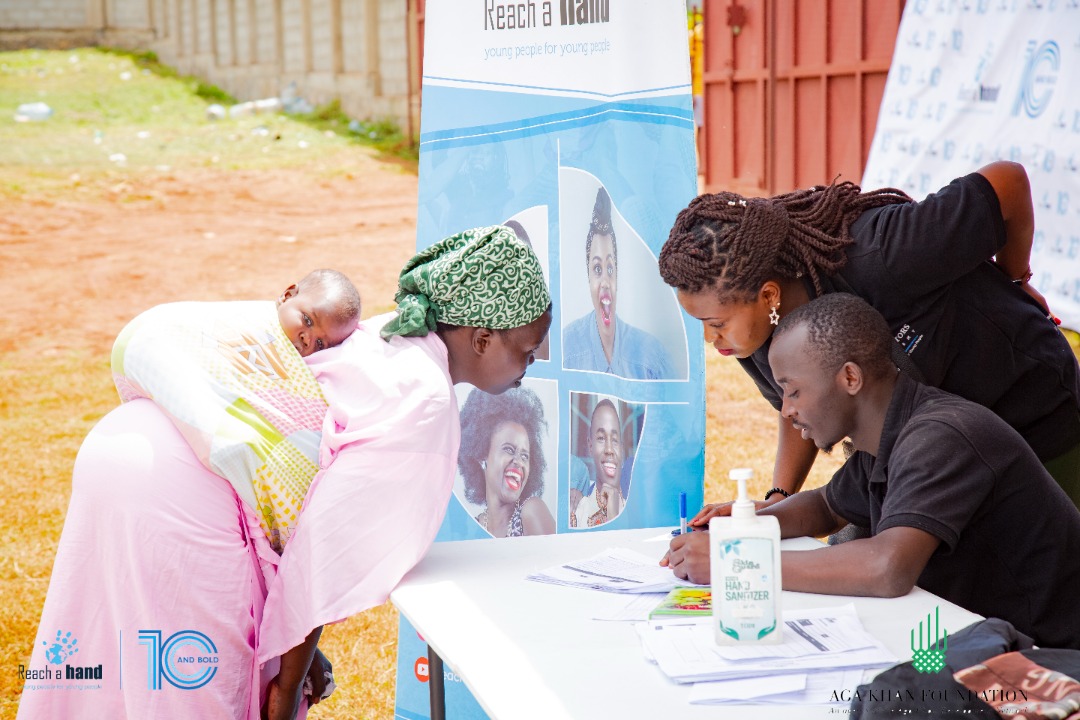 Adding to the Chairman's voice, the Reach a Hand Uganda's Country Director Mr. James Tumusiime said he is glad that the area Chairman understands and is aware of the challenges that young people are going through and promised to organize a counseling camp that will address the rising cases of drug and substance abuse, sexual gender-based violence and other vices that he mentioned in his speech.
He continued by saying that Reach a Hand Uganda will conduct surveys to deeply understand the various sexual reproductive health and rights challenges that young people in Makindye are facing, and he also called upon everyone to take the responsibility for their well-being in the event that Reach a Hand Uganda is not around. In his conclusion, the country director advised the residents to be woke and fight the spread of HIV AIDs. He called upon everyone to test for their status, and to use protection always.
Representing The Agah Khan Foundation, Olgah Namukuza remarked that the lockdown might have been lifted but its consequences are still lingering and haunting the lives of the vulnerable group of girls who were faced with various challenges including unintended pregnancies and school dropout. She went ahead to say that upon realizing the need to help this vulnerable group, the trustworthy and committed Reach a Hand Uganda partnered with Agah Khan Foundation to design a program that mitigates these challenges and also grooms the affected group to emerge from what they are going through.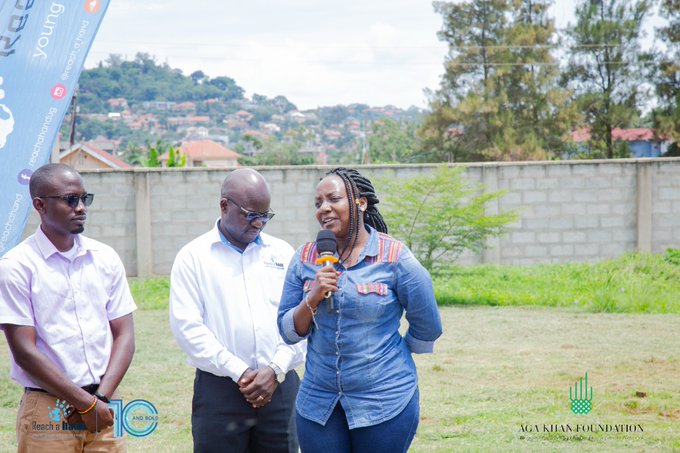 While sharing a word to those in attendance, Reach a Hand Uganda's CEO and Team Lead Humphrey Nambimanya said: "In the next 5 years Reach a Hand Uganda will deliberately focus on providing support and health care services in the neglected areas that are plagued with poverty and inadequate health services. And with projects like the EC COVID19 Response, we are more than ready to the impact the lives of many who are still facing various challenges despite the fact that lockdown was lifted. The COVID-19 pandemic affected the nation in all aspects of life, and this is why we initiated the EC COVID-19 Response project.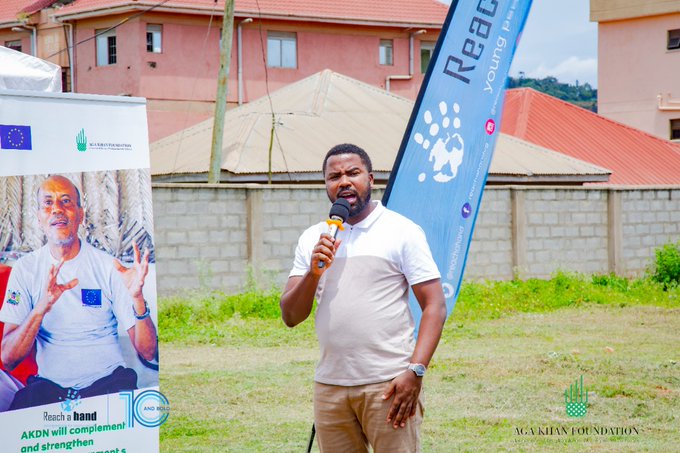 We thank our partners, Aghakhan foundation, his Worship Ali Mulyanyama the division mayor of Makindye and other community leaders who have shown tremendous support to this cause.", he concluded, and the distribution process of the relief items was officially kicked off.