National Unity Platform (NUP) Presidential Candidate Kyagulanyi Ssentamu Robert alias Bobi Wine has released a new song titled Tulonde, which translates directly to 'let us vote'.
He opens the song with a reminder that the regime has been holding onto power for the past 35 years plus, and urges them each and every one, of voting age (18 years) and is registered to vote to go and do so.
Bobi Wine narrates the series of difficulties characterized by arrests, bullet firing, abductions, tear gas the police, military and special forces (security forces) have put them as a party and as part of opposition through, right from the day of nominations, up to the day they commenced their campaign trail in November last year.
In 'Tulonde', the singer songwriter who also doubles as the Kyadondo East Legislator further calls out the Electoral Commission for its discrimination and selective favoring of the ruling party and ignoring the rights the opposition is entitled to as they are both equal, and the EC's activities such as halting the former's campaigns while the rest go on.
The song follows the Electoral Commission's illegal blocking of Kyagulanyi campaigns and refusal to confirm campaign schedule hence using his gift of music to reach the masses.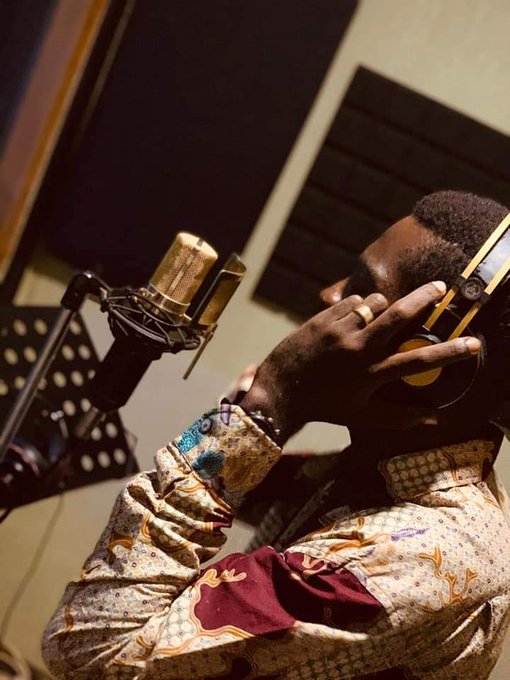 Writing on his social media channels, upon release of song, he says that he dedicated 'Tulonde' to Nubian Li and the entire NUP camp, more so those in hostage for no reason. It read "This one is dedicated to brother Nubian Li and all the comrades that are in prison for no reason. We were blocked from campaigning but the music will now do the talking. This one is called #Tulonde and it serves as a reminder to all the voters in the remaining 5days. #WeAreRemovingADictator 14thJan2021," . Bobi Wine tweeted after releasing the song.
In the 4:24 long audio, the NUP flag bearer urges Ugandans to vote for him and that they should protect their victory. The song comes out just about four days to January 14, the date when Ugandans decide who their president for the next five years will be. Listen to the Sir Dan Magic produced audio below, and most importantly, remember to go to your polling station on the 14th of January, and vote accordingly. Like he mentioned in the song, the symbol is of an umbrella. Put a clear tick or thumb print (not both) next to the candidate on there: Kyagulanyi Robert Ssentamu.
Here are the lyrics in case you wish to sing along: Tulonde – Bobi Wine [LYRICS]
[INTRO]
Ganja people,
35 years of gun rule is about to come to an end
Remember it is your vote that is going to deliver you the change that you so badly need
This one a clarion call to everybody above 18 and registered to vote
Okuva mu November batusalako, Batulumba na ku nomination
Aba special force, military ne police bona bagira mu zi formation
Olwo netutandika olugendo oluwanvu nga lwa teargas na masasi
Ffena nga generation nga tuli ku mission ya kununula our nation
Ooooh… What a shame?
Electoral commission don't treat us the same
Why others campaign?
The opposition in jail they detain
Many comrades in are dead
Nubian, many others in jail ……YO
Kati munange aly'eyo
Okumalawo bino olina kulonda, Nga 14
[CHORUS]
Ffena tugendeeee….
Bana Uganda Tulonde
Jukiza munoowo (nti one day ….egwanga lyaffe likyuke) REMEMBER DAT
(Tugende….. bana Uganda Tulonde)
Mubagambe abeeyo (one day ….egwanga lyaffe likyuke)
Kati bano bayidde
Ffena bwetulonda babeera bawedde…..aaayi
Kuba nze bulijempita
abaana ba Uganda bona bessunga…. Aaaayai
Bagamba nti kyebalinda
Amaaso magule era bona babuuka
Anyway, Omusana kagwaake
Umbrella weeri tulumbee…..
Enkuba ketonye…. Yo Umbrella weeri TULONDE …eeeeh
Kati gwe TIKINGA
Umbrella bwojiraba TIKINGA
Nkugambye TIKINGA
Manvuuli bwojiraba tosuula…..aaaayi
[SPOKEN]
Bana Uganda banange mwena ye Nze Kyagulanyi Sentamu Bobi Wine, Njagala okutuusa Okwebaza eli mwena eli Obuwagizi N'omukwano Gwe mutuwadde mu campaign troll eno gyetubaddemu ebangalino ly'ona wakati mubuzibu obwamanyi.
Njagala okubajukiza omulundi ogusembayo mwena ba Ssebo ne Ba Nyabo nti ku lw'okuna luno nga 14 guno Omwezi gwe mukisa gwe tuyina okusalawo ebiseera bya Uganda ebyo maaso. Kuno okulonda kwetugendamu kwa byafaayo kubanga Akalulu ketugendamu okusuula kekatutwala mu Uganda Empya.
Mbajukiza mwena era mbasaba mujukize banamwe. Abakadde mubayambe bagende balonde, abalwadde mubayambe bagende balonde, N'emikwano gyo gyona gyijukize gyigende gyilonde kuba guno gwe mukisa gwe tuyina okwetaasa kubufuzi obwa Musibira Mubwa, guno gwemukisa gwetuyina okujawo obufuzi obwanakyemalira okuyingira mu Uganda Empya.
This is a clarion call to all fellow Ugandans, all of you that registered to vote REMEMBER the 14th of January this Thursday is the deciding time; this is the opportunity that we have to usher in a New Uganda, this an election that is historical and revolutionary. So am reminding all of you fellow Ugandans to turn up in large, large numbers and vote and make sure you protect your vote because this is history in making. Let us all come out and cast our vote.
We are non-violent but we are democratic, we are many and if we come out in large numbers and vote we can be able to redefine the future of our country.
Remember bw'ogenda okulonda LONDA Manvuuli kekabonero ketuyimiriddeko
Remember when you go to VOTE choose the symbol of the UMBRELLA and you will be choosing Liberation, you will be choosing Freedom.
OUTRO
(Tugende, Bana Uganda Tulonde)
Jukiza Munooowo
(one day….egwanga lyaffe likyuke)
Remember dat
(Tugende, Bana Uganda Tulonde)
bagambe abeeyo…
(one day, egwanga lyaffe likyuke)