If there's anything to go by, it is the fact that this track 'Bounce' by Ruger has picked up virality status real fast. The single has led the Apple Music charts atop for close to two weeks, enjoying massive airplay, and views, not to get me started on the dominance it has exhibited in mainstream media since release.
The jam that is taken off the fast-rising Nigerian star's debut Project – "Pandemic" the EP was released under MAVIN recording artist and Head Honcho D'Prince's Jonzing World/ Sony Music West Africa. A label he joined on Monday, January 18, 2020.
In March 2019, D'Prince unveiled Headies Next Rated Winner, Rema to Jonzing, an imprint of the Don Jazzy-founded and Tega Oghenejobo-led MAVIN. Ruger, who was formerly known as Mikki Drey therefore became Jonzing's first major signing since Rema and unlike the Rema deal, Ruger is only signed to D'Prince's Jonzing World, with no affiliation to MAVIN Records. The agreement was a joint-venture with Columbia/Sony Music.
Born MICHAEL ADEBAYO, the 21-year-old Lagosian grew up in a "musical" environment and has spent the past few years developing his artistry. From singing in church, "dancing to music" with his "mum… in the living room" or being introduced to the likes of "Boyz II Men, Rihanna, Beyonce" from his sisters or in car journeys with his "dad playing Bob Marley all the time" and the occasional "street" parties in his local community, and sharing freestyles via Instagram to signing a record deal with D'Prince (owner of the Jonzing World management collective), RUGER's life inadvertently revolved around music. His breakthrough is an assertion that's largely come true for the Nigerian. "I want the whole world to be on their feet," Ruger told Apple Music, and with PANDEMIC he unleashedd his "crazy, energetic and real" Afro-dancehall sound.
"Overtime, I have learnt that I can't control the situations I find myself in. But I can control my reaction towards that situation. Since the beginning of my journey, I have seen love, I have seen hatred, I have seen both acceptance and rejection. But I choose love over hatred, I choose acceptance over rejection. Love, acceptance and believe is what you, my fans have shown me. And I am ready to pay back with love, respect and good music. I owe it to you all. I have no power of my own, I have no might, I only have the most high God and I am so confident in his promises and the grace he has showered upon me. RU NATION is who we are and we shall rule and stay Rugged fi life. "PANDEMIC" the EP. This is just the beginning ". Shared Ruger as he dished out his debut music project (EP).
For his debut Dipped, stirred, and completely covered in realism, Ruger teamed up with the labelmate and lead, Rema and D'Prince on 'One Shirt '. The Afrobeat driven track tells a story of Ruger's come-up; much like Iron Man 's was Rema's re-introduction. Like every highly personalized debut, One Shirt was chock-full of relatable words, especially for hustlers finding their way like Ruger. The hardships he'd been through, how he did underground shows back then with just one outfit and the people that promised and failed his music pursuit. Ruger further stressed his hustle story and suffering before meeting Omo Oba. The rest of the track has the floor open to D'Prince to cushion the former's story with a matching tale. Rema, as usual, brought the zest to the entire affair with his signature inflections and encompassing narrative while Ruger commanders the group with his laudable grip on the original Afrobeat sound. For a starter, One Shirt Is an acceptable offering likely to kickstart Ruger's journey to mainstream dominance.
After the successful introduction and release of his debut, The Young talent followed it up with popping single – "RUGER ". The self-titled song talks about the talented new kid on the block.
The fast rising highly talented artiste went on and served up a solo project which housed 6 impressive Afro-dancehall tracks, packaged and served for our listening pleasure on an Extended Play by the title with "Pandemic EP"; an ode to his journey from obscurity to potential fame, while riding the high the reception he got from preceding singles, One Shirt and Ruger, have given him. The painstakingly drafted fine 6track "Pandemic" EP is the and had singles: – Abu Dhabi, Bow, Monalisa, Bounce, Yekpa, and Ruger.
Online entertainment reviewers describe the debut body of work from Ruger as an ear grabber that also serves as a gateway to Ruger's multifaceted niche, one that is to appreciate.
It was also highly credited for its eponymous, versatile, crazy, energetic, and real Afro-dancehall sound, proficiency at off-the-top dexterous deliver, and to some a different form of career-defining hit, a pacesetter, and persona defining title for a debut.
By formation, Ruger is like a hybrid Reggae-Fusion-Afro-pop artist. Just like the album artwork/ cover of his Extended Play, Ruger's off tangent branding is synonymous with him having a pirate-esque eye-patch, and pink hair in focus.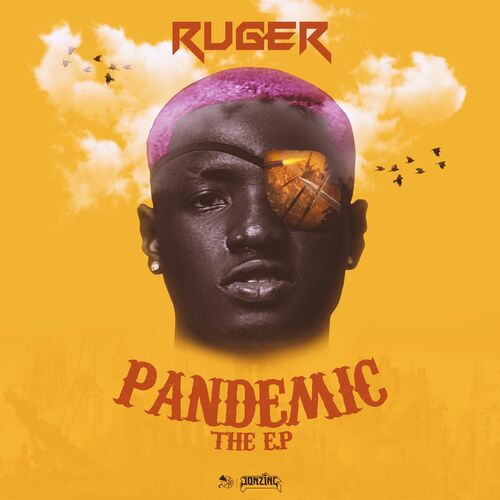 All the tracks on Pandemic the EP were produced by ace record producer – KukBeatz; of which were impressive, they will surely be worth a place on your playlist if you are a lover of good music. The sweet melody is available for streaming.