Providing clients with services like consultancy and strategic insight, website design and development, digital marketing campaigns, content production, social media management and branding design for offline campaigns, Sacris is a fast-growing full service creative digital agency, specializing in developing creative solutions to help their clients reach their goals and objectives.
With operations in Kigali/ Rwanda and Kampala, the company runs under the slogan "Creatively Different" as founded in April 2015, by Saleh Ssennyonjo. Through its digital strategies to empower brands to seize online marketing opportunities and solve business challenges using its custom workshops, analytics and reports provide amazing outcomes, tangible results hence providing long-term value.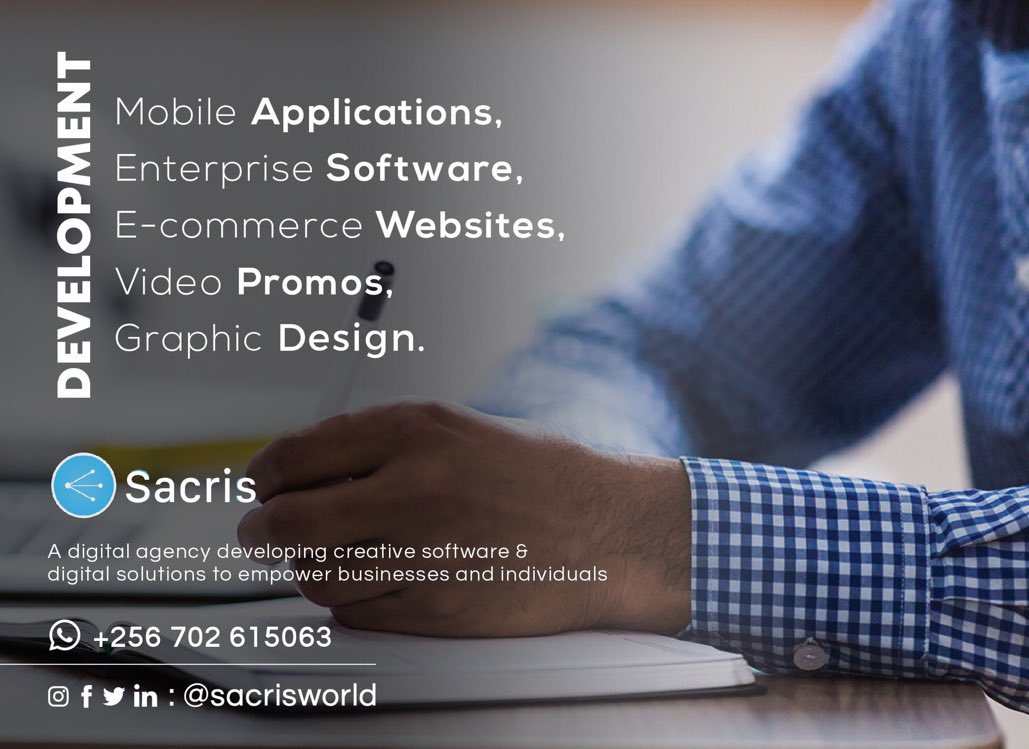 At the heart of Sacris operations is a belief that design is a science as well as an art form and this is heavily evident in its products that include web applications, intranets, ecommerce platforms and websites that are built for security, speed, functionality, usability and, most of all ROI conversions; most with a design that focuses on functionality and user engagement to create solutions that deliver the best results for brands and persons; as the company believes in client satisfaction.

At Sacris, online marketing is not only achieved in terms of Returns on Investment (ROI), but also online visibility and search engine optimization.
The Kanjokya Street based agency also deals in graphics design, in fact my current website logo was created by them.
Sacris also encompasses other companies such as news magazine UG Kati. Some of its clientele include FIT Insights Limited (Maalicard), Buganda Investment and Commercial Undertakings Ltd (BICUL), Unguka Bank PLC, Rwanda Broadcasting Agency(RBA), Haute Baso, Rwanda Utilities Regulatory Authority, Innoveight Hub, Amagara Skincare, Owor Paul, Kipepeo Clothing, Seka Live among others.
The agency was listed at #2 on the Top 10+ Augmented Reality (AR) App Development Companies in Rwanda | Augmented Reality (AR) App Developers Rwanda as of June 2021 by Top Web Development Companies; an online platform that highlights the list of most trusted web and app development companies around the world.
Follow them on Facebook, Twitter, or give them a call on +256702615063 for any of the services above or inquiries. Alternatively visit Sacris' website.