With the Covid-19 pandemic, so many things were affected in one way or the other; which called for a change as an adjustment to the new normal, most especially given the fact that events (live shows) were halted and back here a home, the tourism sector too was hit; with the closure of touring sites; needless to hint on the cold reminder of how there was no movement all lock down long.
By far one of the most attended events of the year 'Roast & Rhyme' too was affected; being that revellers could no longer be able to converge in the spacious Jahazi Pier in Munyonyo overlooking the beautiful Lake Victoria since social gatherings too had been put to a pause. The most recent glamorous edition of the event was graced with performances from A Pass, Janzi Band, John Blaq, Azawi and Emperor Orlando who each put on set a stellar performance each which left the crowd into ecstasy, having jam-packed the venue with their BBQ cooking stoves, chairs, mats and of course meat of all kinds. Among other activities were games like chess, draft and scramble as people were roasting and chilling by the lakeside.
Meanwhile, the team at Swangz Avenue and partner event organizers of 'Roast & Rhyme' have been up to something in order to make Kampala's most anticipated party plan happen, and safe to say the long wait was worth it, as they this week announced that 'For the next edition of it is taking it to the wilderness. Swangz Avenue's Jaylor teased the poster for the upcoming 'Roast & Rhyme' In the Wild Eco-Tourism edition, via her socials saying:
Well, here's All you need to know about 'Roast And Rhyme In The Wild': 😊
The Eco-Tourism format dubbed "The Wild Roast & Rhyme" is slated to happen next month and will be a 3day adventure filled weekend, with Friday, 11th December, 2020 being the starting day, and will go on all the way till Sunday, 13th December, 2020, at Murchison Falls National Park.
'Roast And Rhyme In The Wild' is in line with government's efforts to promote local tourism and Swangz has already seen a trend of Ugandans going out in the wild and exploring the beauty Uganda has. However, this will be the first with this kind of offering; – said Swangz Avenue in a Press Release.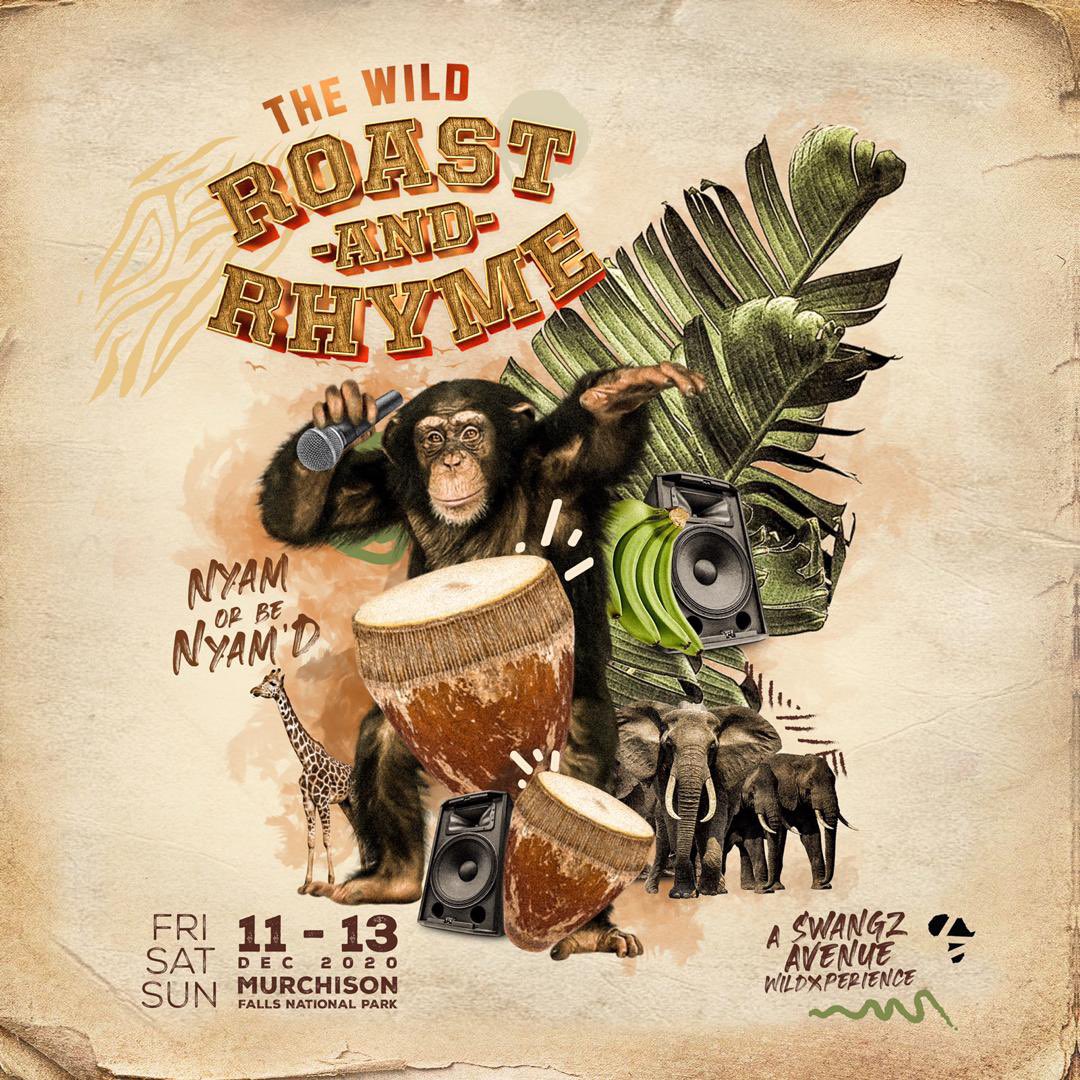 They further elaborated that; The weekend is to be fully packed with activities starting with 'Friday Bon Fire Night' where organizers will treat tourists to freestyle entertainment and treats of roasted wild meats. As for Saturday, it'll start with early morning game drives to give the patrons a chance to interact with the wild as guided by Uganda Wildlife Authority to ensure security for both the animals and the tourists.
Later on, in the evening, guests are to expect a treat of an evening full of meat, live entertainment and drinks (Courtesy of Bell Lager) in the game park.
Swangz has partnered with Premier Gin Brand Tanqueray for the Sunday Tanqueray All White Brunch that will start at 10am into the afternoon as guests check out and head back to Kampala.
Of course, by now the million-dollar question could be, how much would one have to part with, for the experience?
Ticket prices for the experience depend on how long and where you wish to stay while at the event/ trip. For example, for one who wishes to stay in the tent all throughout the weekend's 'Roast & rhyme', they do part with only Ugx. 200,000 (Per Person) and a flat Ugx. 340,000 (Per Head) so as to access one of the designated lodges. You can choose from bed and breakfast to full board packs. Different Weekend offers have been lined up to allow patrons pricing flexibility; as revealed here: ➡️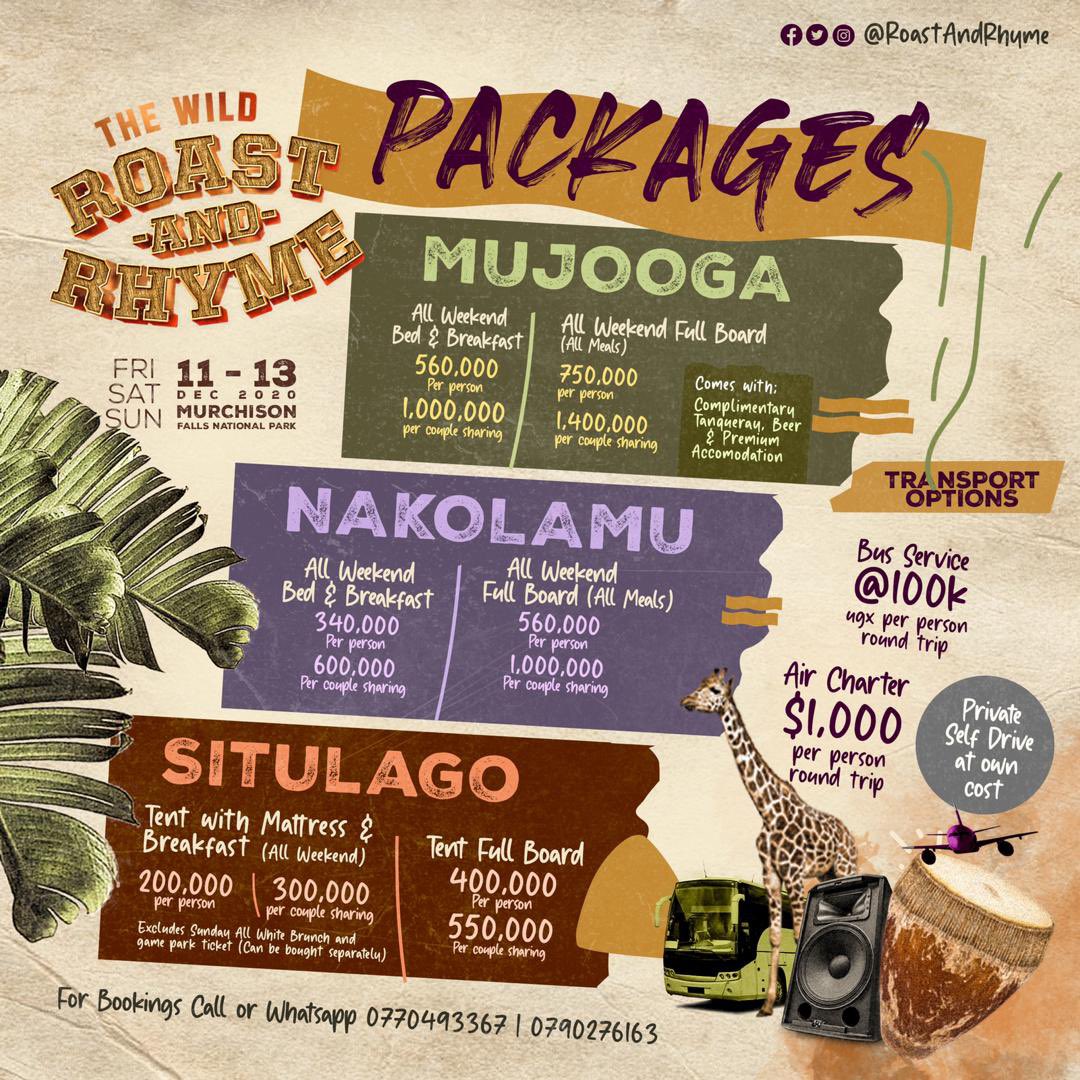 While at it, the Ministry of Health (M.O.H) COVID-19 SOPs & Guidelines are to be observed; Multiple hand washing points shall be set up, temperature checks at every activity and attendance is restricted to the allowed government numbers for every activity. Attendance must be pre-booked and fully paid for. Therefore, for Bookings, do call or WhatsApp phone numbers on the poster above: 0770493367 / 0790276163.
Lastly, Patrons (attendees) can drive their private cars, use the provided bus service at an affordable charge, or can fly to Murchison. Either way, do book in time so you can explore the beauty of the Pearl in style, in December's 'Roast And Rhyme In The Wild'. 🥳 😊