The new EP is a follow up to her 2020 'For Broken Ears' EP.
Nigerian Altérnative star Temilade Openiyi alias Tems has been on a streak with her unique sound that fuses Afrobeat to create a new wave of African R&B that is centered on mood, expression and originality, and one less concerned with trying to sound too familiar.
A thing she has had going on right her early days of 'Try Me', leading up to her 2020 Extended Play 'For Broken Ears'.
Temi while commenting on the decision for her direction in terms of sound said:
"Growing up in Nigeria has created the rebel in me when it comes to my sound," she explains, "and what motivates me to move every morning. All the encounters I have had brought out that rebel in me in different ways—the rebel that dares to do things her own way."
Doing things is indeed paying off; as the powerhouse singer was most recently named most followed/ listened to African artist on music streaming platform Spotify, a record she still holds till today as updated statistics indicate that she commands 14.2Million.
Related: Tems Locks In New Spotify Monthly Listeners Record. Clocks 11Million. Most For Any African Artist On The Platform
'If Orange was A Place' is a solid 5track track and it's lead single 'Crazy Things' was outed last Friday; just a few days after announcing the news that Tems would be releasing her EP this week. The other four tracks on the Extended Play include: "Found" (feat. Brent Faiyaz), "Replay", "Avoid Things" & "Vibe Out".
According to the artwork the 'Essence' vocalist shared, the production and sound engineering credits on the 'If Orange was A Place' EP go to Guilty Beatz, Jonah Christian and Spax.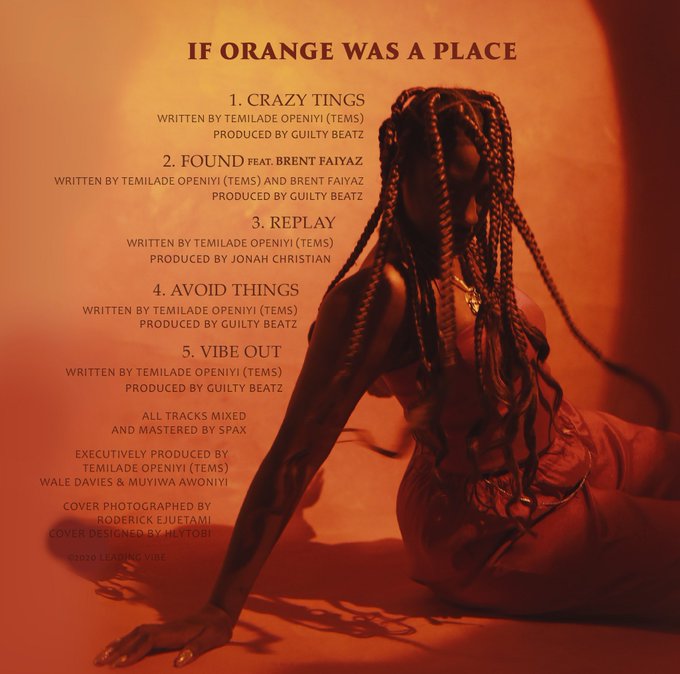 This new body of work creates ample space for Tems' distinctive voice to shine as she navigates through themes of finding inner peace and staying true to self.
While commenting on the inspiration behind the title of her new EP, Temi says: "Orange is a vibe". It is the feeling of sunset and the sweetness of an orange. And when I think of those songs, I am transported to a different place where everything is warm and sweet."
All this follows her immense immense contribution to highly acclaimed projects like 'Essence' off Wizkid's Made In Lagos album, and most recently "Fountains" off Drake's album, 'Certified Lover Boy' LP.
Read Also: Tems Confirms Upcoming Appearance on Drake's "Certified Lover Boy" Album
Tems also announced her U.S tour, and tickets can be purchased via her website. The 25minute total playtime 'If Orange was A Place' EP was released and licensed via RCA Records, the label to which her former collaborator Wizkid too is signed.
Listen to new TEMS below, and share your thoughts.