Nigerian songstress Tems has hit a major milestone on Spotify.
Temilade Openiyi, popularly known as Tems, has hit a major milestone on Spotify, making her the first African female artist to achieve the feat.
The soul-stirring singer, songwriter and producer has of today surpassed a whopping 11.46 Million Monthly Listeners on the music streaming platform Spotify, making her the first female artist in Africa to rack up such numbers and most listened to artist on the platform; only followed by her collaboration mate Big Wiz.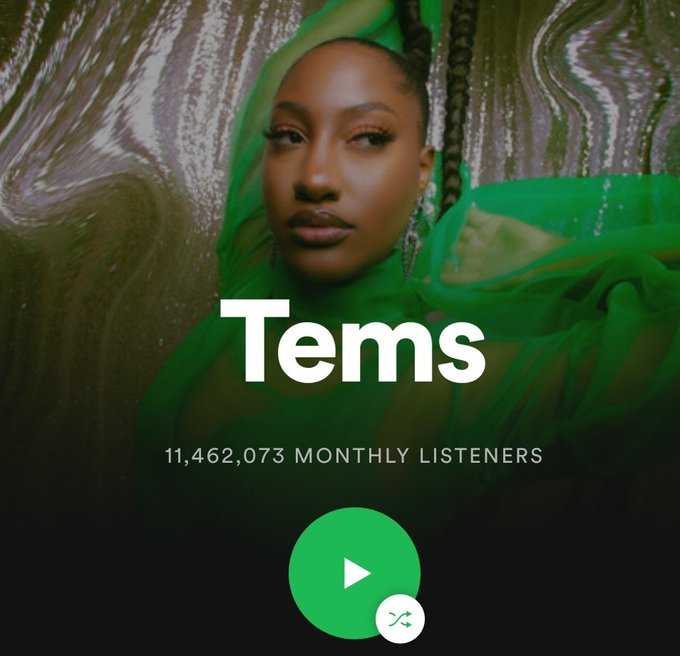 Could this be yet another WIZKID 'Essence' Effect? Partly yes, for She played an instrumental role in the success of the track with a catchy hook; and its original version has since locked in 43.7milli in streams on the platform, and 15.9M from the remix featuring Justin Bieber.
Given the exposure the success of the track, Temi has since been tapped on projects such as 'Fountains'; a track that's taken off Drake's new album 'Certified Lover Boy'; which by the way has a lose 8.08Million plays on the platform.
Related: Tems Confirms Upcoming Appearance on Drake's "Certified Lover Boy" Album
On the other hand, Temilade has been tapping into other foreign audiences with other mad collaborations including the 'Know Your Worth Remix) with Davido & Khalid, and most recently 'Peace' alongside Mannywellz.
These numbers are expected to keep surging even more, given that joint effort with Drake's collected such figures within a short time, plus given the fact that she even announced that she would be dropping new music by the end of this year, while in an interview with BET Amplified only means that new material will be added.
Congratulations Temi. 🥳😊