Every once in a while, one should treat themselves. Small rewards keep you motivated and remind you that at the end of the day, you're just a human who deserves some indulgence on occasion.
A sweet treat like a cookie, piece of candy, or slice of cake is the reward of choice for many. I know it certainly is for me, but I treat myself to sugar-laden foods much more than just "once in a while".
I for one are heavily afflicted with a notorious sweet tooth and refuse to kick the habit by opting for anything less satisfying, but still want a better-for-you alternative, a new dessert from an organic baker; Phiona Caroline might just have been my saving grace.
Not long ago, the Goldie's cake in a cup began frequently appearing on my Twitter feed, and instantly piqued my curiosity. Not because I really wanted to eat single-serving powdered cake, but because it seemed so different and a superior to conventionally baked cakes. Right from the packaging, among the other standout features. The posts continued to appear, and that's when the shadows set in:
While trying out all the components of the cake in a cup myself, I was surprised at how great they tasted. The Oreos, goodness! From the first lick, you do feel your taste buds opened! The size also kept me satiated. This pre-portioned treat was just enough to satisfy my desire for something sweet. It smelled like what a scented candle company thinks cake should taste like as it made me crave for more.
These colorful products are the brainchild of founder Phiona Caroline, a lifelong baker. Before starting her baking company, she was first a graduate of the YouTube University (tutorials) where she mastered skills on how to bake and later joined an institute to perfect it. The Goldie's Cake In A Cup is a clear reflection of Phiona's time spent surrounded by creative recipes and ideas and her passion for bringing healthier baked goods to customers.
Manned by self-taught baking entrepreneur, Goldies' Cakes this year April 2021 released a delicious line of cake in a cup that are made with organic, natural ingredients, and taste great.
A Goldie's Cake in a cup mix is a revolutionary product for the tasteful health industry, making homemade goods not only delicious, but bring well nutritional value. This easy bake 'cake in a cup' constitutes as a diabetic, gluten free friendly dessert. It is filled with exotic, tasteful flavors ranging from the mixture, to the healthy nutritious sprinkles (conducting it quite a variety of nuts and natural spices / favoring,) to the mouthwatering cherries. Each cup comes with four single-serving envelopes of cake powder (whipped cream), assorted fruits (cherries, strawberries, pineapple, oranges), Oreos, blueberries, and amazing toppings (sprinkles).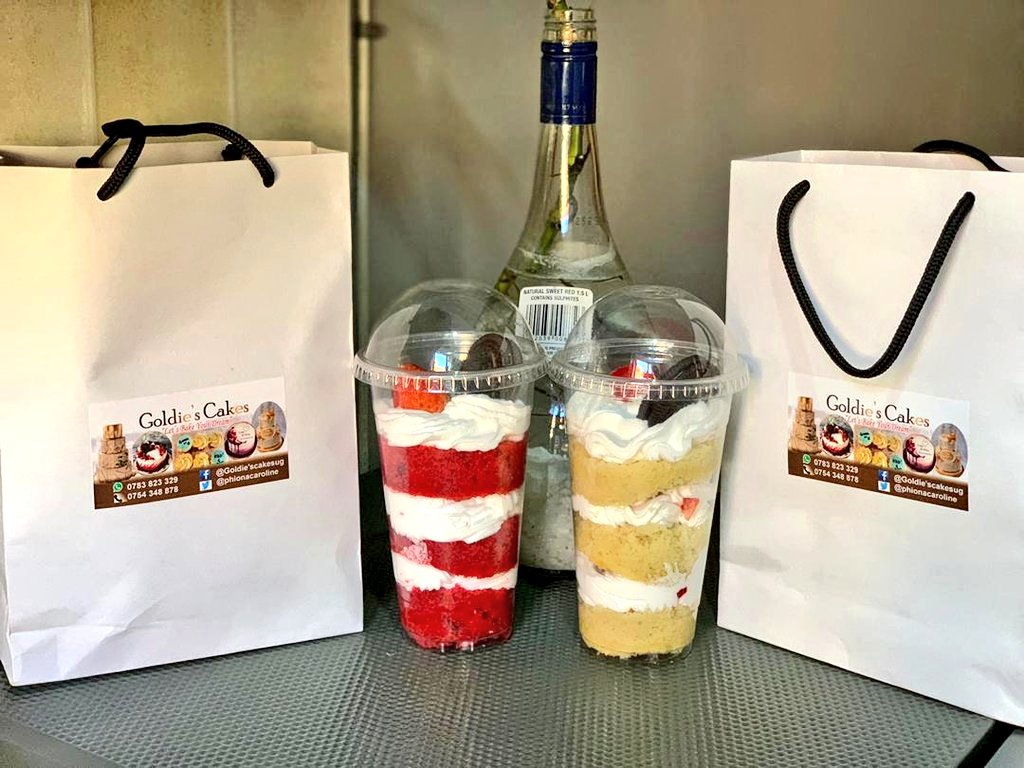 Uniqueness: Goldies' Cake In A Cup is a perfectly portioned organic cakes, that you can enjoy anywhere. Since they come in plastic cups, they are easy to clean up or bring with you out of your house, as these desserts come in convenient plastic cups and are ready to eat in less than a minute.
Ideal for: Situations where one just wants a quick and simple sweet treat, for parties instead of the traditional cakes, one can opt for a Goldie's Cake in a Cup by ordering a couple of cups.
And yeah, did I mention? Presented with the cup is a gift card whose recipient's name can be customized. (From, To).  Plastic spoons to enable you dig in with ease are provided, along with serviettes so as to clean up afterwards.
The Goldies' Cake in a Cup is currently available in a staggering 4 varieties: Red Velvet, Chocolate, Black Forest, Vanilla. Plans to add a strawberry flavor are also in the works.
Cake in a cup as a concept been a thing for a little while now. They're popular with college students, are convenient to enjoy the desserts at home, at school, or even office.
A Cup goes for UGX. 13,000/=, and UGX. 25,000/= in case you are ordering for two cups. Do reach out to Goldies' Cakes on Facebook, Twitter or give them a call on 0783 823 329 or 0754 348 878 to give your taste buds a midas touch!