After two years no JW Highball Tours, whisky brand Johnnie Walker is set to make these come to a town near once again.
With the last happening in February 2020 at the Club Tavern Parking Lot in Masaka, Uganda like any other country was hit by the COVID19 slap, which reinstated lockdowns, and halting of events; the Johnnie Walker Highball Tour being among them, of course.
The event is always characterized by activations in towns days prior to the grand event, which features performances from the region's elite artists, deejay mixes, prize winning, and enjoying of Johnnie Walker's signature cocktail.
Set for Saturday this week at the Garden City Parking Lot, the Johnnie Walker Highball Tours do return, this time in a Pan-African campaign focusing on the brand's "Keep Walking" mantra; a movement designed to celebrate creatives across the continent who exemplify this long-standing slogan in their different trades and crafts.
With Burna Boy at the lead as the Global ambassador for the whisky brand, a couple of Ugandan celebrity influencers were recently announced and these included renowned femcee Miss Deedan Diana Muyira, rapper Navio, DJ Slick Stuart, Timothy Code, Slay Farmer and radio personality Jaluo.
On the 25th this week, another mini campaign tagged "To the Ones Who" saw the above mentioned ambassadors engaged in "The Walkers Campaign", which involved a walk from Capital Shoppers, Nakawa to Thrones in Bugolobi where the return of the Johnnie Walker tours was announced.
This series of tours will just like the JW Highball Tours happen countrywide, with the very first being Kampala this weekend, and will feature performances by Sheebah Karungi and recently appointed National Walker, alongside mixes from DJ Slick Stuart and DJ Sesse.
What has changed?
Previously, Kampala would be the final destination for the tours, with priority going to regions like Mbarara, Masaka, Mbale, Fort Portal, Gulu and then Kampala, this time round, Kampala is getting the Johnnie Walker party going first.
Formerly, the host deejay for all Johnnie Walker has been Selector Jay, however, with Slick Stuart on board as an official Walker, he'll be the main deejay for all major Johnnie Walker events, tours and activations.
What has remained?
The talented, and ever amazing Miss Deedan will continue to be your host for all things (events, activations) Johnnie Walker related, plus, those much loved signature Johnnie Walker cocktails will remain a thing.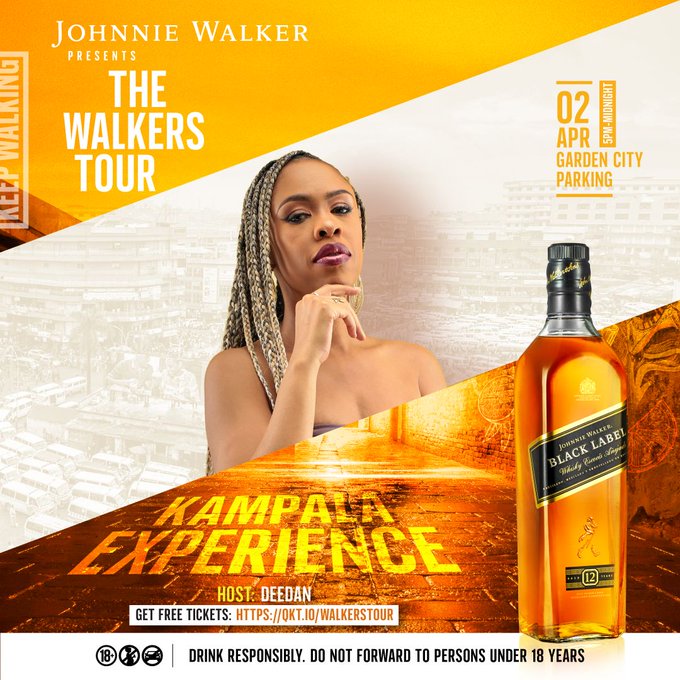 In case you missed these Tours and Johnnie Walker events, this is your call to book your FREE ticket to the maiden Walkers Tour =, the Kampala Edition here. Once again, it is happening this Saturday April 2nd at the Garden City Rooftop. See you there!