So, today 8th October, 2020 marks two years since I attended the Club Major Lazer show. The event must have been the most well marketed and advertised show that year, as flyers were everywhere, Ads on YouTube and billboards, not forgetting online. I had plenty of reasons to anticipate and be excited about the event. First was the fact that I am a music fanatic, and my appreciation for the music making trio made up of Diplo, Jillionaire and Walshy Fire was like up there, ever since I first watched their song 'Lean On'. Secondly was the fact that at the time two thirds of the group (Diplo and Walshy Fire) were here was Friday 21st April 2017 at Golf Course Hotel and by then I was at school; a candidate class, and only saw the highlights from the event in the newspapers, and that their show had gathered mammoth crowds. This was like my shot at witnessing the electronic dance music making and deejaying trio do a live show.
The initial arrangement was that Early bird tickets were being sold at the Definition Shop in Acacia Mall, Talent Africa/Yujo and online at Quicket for Ugx. 30,000, whereas they were to go for Ugx. 40,000 at the gate. VIP tickets were 100k for early birds while at the entrance they would go for 120k before Oct.1st.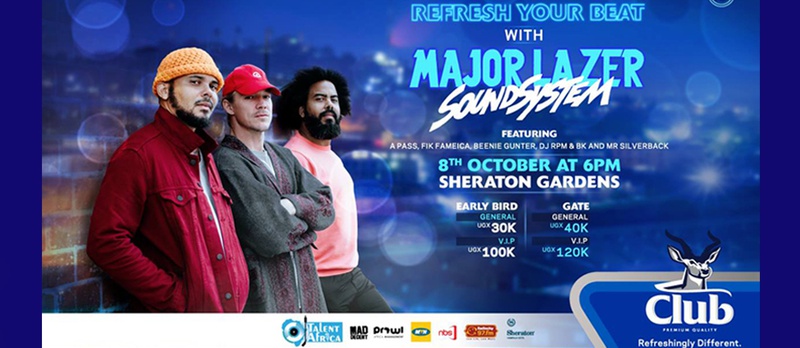 At the time I was still studying my short course in CISCO at Makerere. Being that we used to have our classes in one of the computer labs at the campus, I was most of the times scrolling through Twitter, while sneaking to YouTube time and again, because whatever used to be being taught wasn't surely my cup of tea. So, while I was on YouTube, an advert for the Major Lazer Sound System/ show ran, and it really got me hooked. Remember, the law of attraction? So, I manifested it that I had to attend the show kama mbaya ni mbaya. This was me speaking to my inner self. Back at home, I would keep telling these people, how I was going to attend the show, but keep in mind this was coming from a young, dumb and broke me 😁 wherever I used to collect the confidence and assurance I also don't know.
The day of the show arrived; the Monday 8th of October,2018. And I left home with just a ka Ugx. 10,000 on me for a budget for the concert. While at campus, I was scrolling through MTN Uganda's Twitter, and I saw a tweet they had put up over the weekend (Saturday) offering FREE tickets to the show that were up for grabs. Having secured the partnership with music streaming platform Tidal end of August that same year, they had curated a 'Major Lazer Essentials' playlist that subscribers could be listening to as they set the mood for the show that was a few days away anyway. And then there was me who was seeing the post 48Hours later. To win, the mechanic was simple, all one had to do was go to the Tidal app, now most of the in- curated playlists by Tidal, MTN and its curators are always on the Home menu. So, to win, all one had to do was take a screenshot with the Major Lazer essentials playlist open. Winners were to collect their tickets from the MTN Headquarters at Nyonyi Gardens (Kololo). So, this opportunity had passed me. Also a week earlier, on 97Fm Radiocity, being that they were one of their media partners had some tickets to give away, however for one to win, they had to make a call during one of the shows, and answer a simple question about the Major Lazer in Uganda event, and just like they'd win one. This I had failed at badly as well, since the radio's studio phone lines would be buzzing and busy as there were so many callers.
As part of my manifestation and belief that that concert was to be attended, I left my class notebook home that day, just so I wouldn't be having anything hindering me from enjoying the show. So, it clocked like a half past 5 o'clock while I was still seated in the computer laboratory, and browsing through tweets about the event. Bambi, I was really determined to attend but it seemed like all forces were working against me. While scrolling, nga I land on a post by an influencer friend, in which he wrote, 'that for him as him, he had fluked the event, by getting in hours earlier before they could start asking for tickets/ passes at the entrance as a requirement to access the event. Actually, the time he got in, the lighting and sound systems were still being set up. Then an idea popped up in my head. 😁 Yes, what you are thinking is what I decided to do; – to go fluke the event– mafia style. Being that Makerere was like a ten-minute walk, I went on the move, headed to the Sheraton Gardens, Kampala to go witness the star-studded event.
Now this was where nature and luck too its course, kati nga as I am approaching the main front entrance of the prestigious gardens, I saw a trio, that was checking in at the same time as I was. I offered to help them carry their boxes. In our conversation, I would later find out that they were the team that had been sent by MTN to come install Wi-Fi slots, for revelers to use while at the event. So, we sat in the waiting room, just adjacent to the reception of the hotel, in whose gardens the Major Lazer was to happen. We were there for quite some time. So after about forty minutes, the receptionist called the MTN team that had sent them to deliver the internet connection, to inquire on the number of how many the company had sent them; to which she was told that they had sent only three to the venue. But we were four of us seated there. Awo w'ena manyilaa nti kaweddemu!!! 😪
Moments later we were led to the networking and connections room, where majority of the wiring of the hotel is done. Being a computer networking student, it was kind of exciting to see this equipment we were studying in class and doing with Packet Tracer (software for virtualizing device connectivity) in real life and touch them. The ka room was cold my guy eh! Plus, there was an Air Conditioner in there. This very room was also where the security cameras of the place were situated. So, I was there conversing with the security guy, in between the breaks when the networking people would be moving around to make sure the connectivity is set and stable. Meanwhile at the back side, the event had already kicked off, and crowds that had thronged the Club Pilsner, Talent Africa Group and MTN organized show were being treated to mixes by DJ Apeman (SilverBack). I really hate that I do not recall any of the names of these three folks I was with, since we had just kicked it since; and like you know guy friendships also 😁 we barely ask each other for names. Okay let's call him Sam. So, Sam was the one who had been making constant movements in and out of the gardens where the event was, so as to signal test whether the internet connection had been stable. Therefore, the guys at the ticketing check point had become quite acquainted with his face by now.
He came back to pick the last batch of equipment, and I was to escort him back to the gardens, that's where he got out the ticket from his pocket that has been given to them as passes, as earlier booked for them by their boss, and wrapped it around my left wrist, and that's how I got into the show. And that wasn't it all, this pass was giving me all round access to any spot at the event. Sam, and I passed through the gap that was left in between to differentiate those of VIP and those of Ordinary and we headed backstage, where the Talent Africa people were stationed. Also, backstage was closest to the stage where the performances were happening, also it was where all artists were passing as they headed for stage.
The stage had a Club Beer rave kind of set up and sound system and of course this created an experience like no other. Silverback's set got done. As we awaited performances from electronic dance music trio Major Lazer, other headliners also came through and kept the heat going up at all times. Among these was Beenie Gunter, whom I was seeing for the very first time in person. He's calm bambi. How do I know this? I was backstage with all acts, bruh. 😁 Another performer of the night was Fik Fameica (Fresh Bwoy) who treated us to his tunes 'Mafia', 'Property' and others. Did I mention, the event was hosted by seasoned femcee and media personality Miss Deedan Diana, and MC Kats. This was the very first my eyes set themselves on this lovely lady, that I had always watched on Urban TV those days, on drama series 'Beneath the Lies' and would listen to her on Radiocity then. She introduced DJeff Afrozila, who had come right from Angola and he set the mood absolutely right with his mix.
Meanwhile as I was there wondering about the behind the scenes of the stage, nga guess who I was setting my eyes on;'- drum roll, it was my all-time favorite artist Alexander Bagonza (A Pass). Of course, he had been enlisted as one of the stars who would be headlined, and yes hi, being on the line up of performers was something I wasn't definitely going to give up/ accept to miss out on. Don't know much about how to describe fashion and attires, but he was rocking a classic red suite, brown glasses and his smile as always. I was excited, happy and 'malo' (rural urban excitement) was written all over my face. But of course, like I have always believed, it is good to express how you feel, and not hide a thing. It frees your mental and it also shows that you are human enough. I moved towards mandhem and I was like hello sir, it's me Mugibson, yes, I know you might not recognize me, but I am a big fan. And told him how I couldn't believe that I wasn't watching him on Instagram but rather in person. Like all good and memorable moments, I requested the good sir for a selfie. Though my camera of course let me down! But yeah, a good feeling it was, not gonna lie. For the mean time he sat by and sipped on some water, ahead of his performance.
Before Dee could invite him next on stage, the 'Midnight Drum' project which he was to feature on alongside Fik, Rouge and DJ Maphorisa was teased a little on the rave front screen. Upon hitting the stage, the forever man of all seasons, versatile ragga and dancehall star A Pass the GOAT performed 'Mummy', 'Didadada' (while playing around with the phrases 'bali bakubba, bali, bali bakubba' while bantering Bebe Cool after the bottle pelting that had occurred to him while at the Swangz All Star Tour that had recently happened. In between the mood that fans and those in attendance had been lost in, he spared a few seconds to pass by the left edge of the stage that was adjacent to the stage to ask if I was enjoying the show; saying; – 'everything good? Everything nice? And went back to conclude his performance by live singing the snippet of 'Guli Wano' which he was to release the following week.
Time was indeed fast spent, and the long-awaited international superstar trio Major Lazer arrived, to take the stage. Diplo (who was clad in a plain white shirt, Walshy Fire; the hype man/ Mc of the group in a Ugandan jersey and Jillionaire trio kicked off their set by around five minutes, at the 'Refresh Your Beat' themed event. Their set was made up of exciting and danceable hardcore electronic dance music (EDM) mixes and of both local and international artistes. I do vividly recall how the crowd went wild when Diplo threw Raymond Kamara's "Amasanyalazze negagenda" song in there, and we all chanted joyously. As revelers, we were in a trance as the American EDM group Major Lazer delivered mashups of different genres of music from pop, electronic music, reggae, dancehall, pop and even Afrobeats. No way they could have failed to play 'Particula', 'Light it Up', and 'Cold Water'.
Sheraton Gardens was wild that night, man. The night of October 8th, 2018, provided a night of electric mixes from Diplo and rapturous energy, singing, stomping and jumping with hands raised up in the air from the fans that best describes the night which was in East Africa's undisputed party capital. Our 'we want more' chants were slightly fruitful as it had clocked midnight and as per the KCCA directives here, no shows are allowed to go past midnight, however Major Lazer extended by only ten minutes and performed for us their best internationally received single "Lean On' and after this, Diplo who was shirtless by then raised the Ugandan Flag and wished us a Happy Independence Day.
The concert was everything any party loving Ugandan could wish for, and better still, what better way to be ushered into Independence celebrations than that. Major Laze's second coming, left many of us indeed thrilled and with a night to remember. It was indeed the best show there was, that year, as earlier promised last year.
That has been the tale of a once backstage dude, who got lucky. A Happy Independence Day, folks!