Among all the stars to ever headline the "Best Of Kampala" event, DJ Maphorisa & DBN GoGo shined the brightest.
In an all-white and floral outfit (DBN Gogo) & all white plus his signature black glasses and blue jeans (DJ Maphorisa), the multi-award-winning record producers & deejays had many concertgoers jostling for position to watch them perform at the recently concluded "Best of Kampala" event on Friday night (May. 13) at La Paronis (now situated at the Garden City Rooftop) in the heart of Kampala.
Related: TOTALLY WORTH IT! Major League DJz Thrill Amapiano Fans At Best Of Kampala Event.
Despite being an eventful Friday, the show attracted hundreds of revelers included; including several entertainers and media personalities too.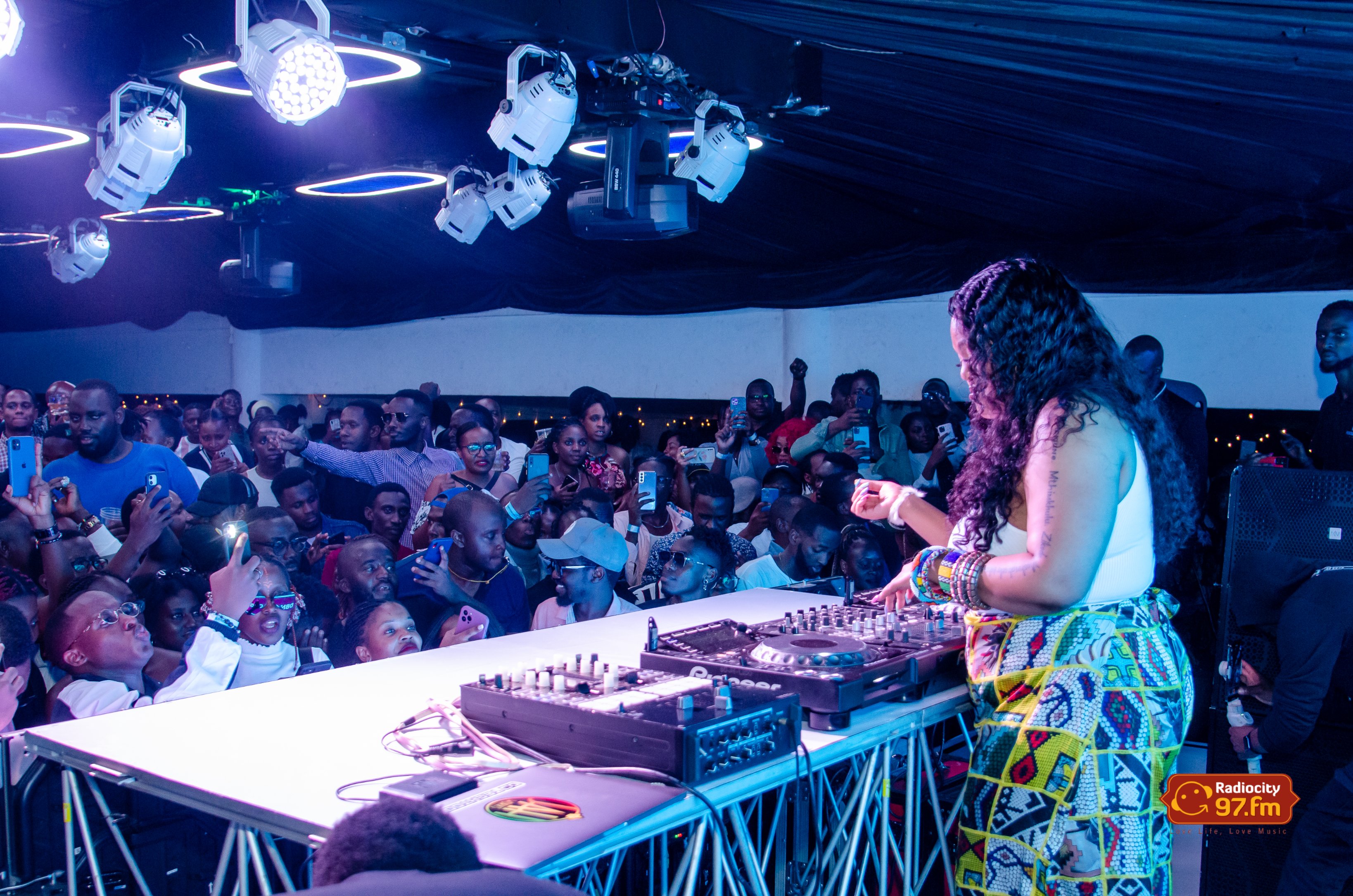 As the crowd eagerly waited on the two amapiano maestros to hit the stage, the attendees mingled for a couple of hours as they were entertained by the in-house deejays KasBaby, Selector Jay, and Eddie Wizzy Selekta. But once she (DBN Gogo which is, by the way, pronounced "Darban Gogo") 😁 who was one-half of the headliners of the night arrived, many flocked toward the stage and pulled out their phones to capture the majority of her 1hour 45-minute set.
Gogo's set included some of her biggest hits "Bambelela", including her latest "Bells", to which the crowds danced along with the routine, clapping along, blowing whistles, and making loud enchantments of joy. She'd gradually take a few steps away from her deck to join the groove and then back to mixing.
Whereas it might have been the South African star's first time to Uganda, it surely wasn't a first for her counterpart Themba Sonnyboy Sekowe who's also professionally known as DJ Maphorisa as the "Adiwele" hitmaker gave Uganda a maiden visit in 2017 at the Ciroc Sip N' Dip party where he was a headlining act.
Fans were sent into a frenzy as they wildly cheered on as he hit the stage at 3 O'clock and went ahead to play the majority of his chart-busting tracks "Izolo", "eMcimbini", Bopha", for the next 1 and a half hours, to which as expected many sang along too, as they did the dance routines.
Amapiano continues to take the world by storm; speaking of which Gogo & Maphorisa were the latest from the genre to perform in Uganda this year, just after Major League DJz, TxC alongside house DJ Sun El Musician.
Read Also: Club Pilsener Sponsored 'Brunch In House' Event Featuring South Africa's Sun-El Musician Lives Up To Expectations.
Some other acts popularizing the genre include Focalistic, Uncle Waffles, Kabza De Small, and others.
Below are highlights of how the night at "Best of Kampala" with DJ Maphorisa and DBN Gogo went: