Releasing music albums has become quite a culture on the Ugandan music scene; something I personally love to see. Well, as others are dropping Extended Plays, LPs are equally arriving, and this is largely credited to the pandemic which left majority of the population home, hence prompting many artists to write new music, and some record even.
This has birthed EPs like Joshua Baraka's 'Baby Steps', Drillz's 'High Thoughts', Eddy Kenzo with 'Made In Africa' among others. The latest to be in the pipeline being Singer songwriter & CEO at Mpaka Records Wycliffe Tugume also professionally known as Ykee Benda.
He has previously used this time to promote his label's signee Dre Cali, and therefore felt it was now time to focus on self and bless the fans with some new music.
Related: Mpaka Records' Dre Cali drops heartwarming single 'Ekifuba'
Ykee first teased the album after arriving Lydia Jazmine collaboration 'Banange' last month, hence making the new LP highly anticipated.
Quick Facts:
The body of work goes by the name 'Kirabo' as loosely translated to 'Gift'.
About choice of album name; Ykee Benda remarks that this album is a gift to his fans for supporting him all through the journey over time. On the 16th September of 2021, the 'Malaika' singer will be marking five years of activity in the music industry hence not seeing a more fitting time to drop the 'Kirabo' album than now.
Is this Ykee's first album? Definitely No! The singer dropped his debut album in 2017 and was titled 'Kireka Boy' and housed hit songs such as 'Munakampala', 'Farmer (Remix) ft. Sheebah', Malaika, among others. Kirabo album will be a follow up to this release!
When does it drop? The LP is arriving Saturday, 7th August, 2021.
Exactly who features on 'Kirabo' Album? Tekno Miles. Yes, the Tekno Miles; the Nigerian Singer, Producer and Songwriter who gave us tunes like 'Pana', 'Diana', 'Skeletun', and 'Duro' among other hit songs. He is to appear on track 3 (Magic) on the album.
Elsewhere on the album is Gaz Mawete who appears on song number 7 (Complique), Kiff No Beat on 'Million Dolla', Rwanda's Yvan Buravan for the remix of 'Ma Bebe', Messias Maricoa who is to guest appear on track 13 'Fire', BM artist on 'African Belle', Uncle Austin is to join Ykee Benda on song 17 'Umbrella' and the LP is to close off with Ykee Benda's most recent joint effort 'Banange'.  
This makes it a total of 18 tracks to expect on the album.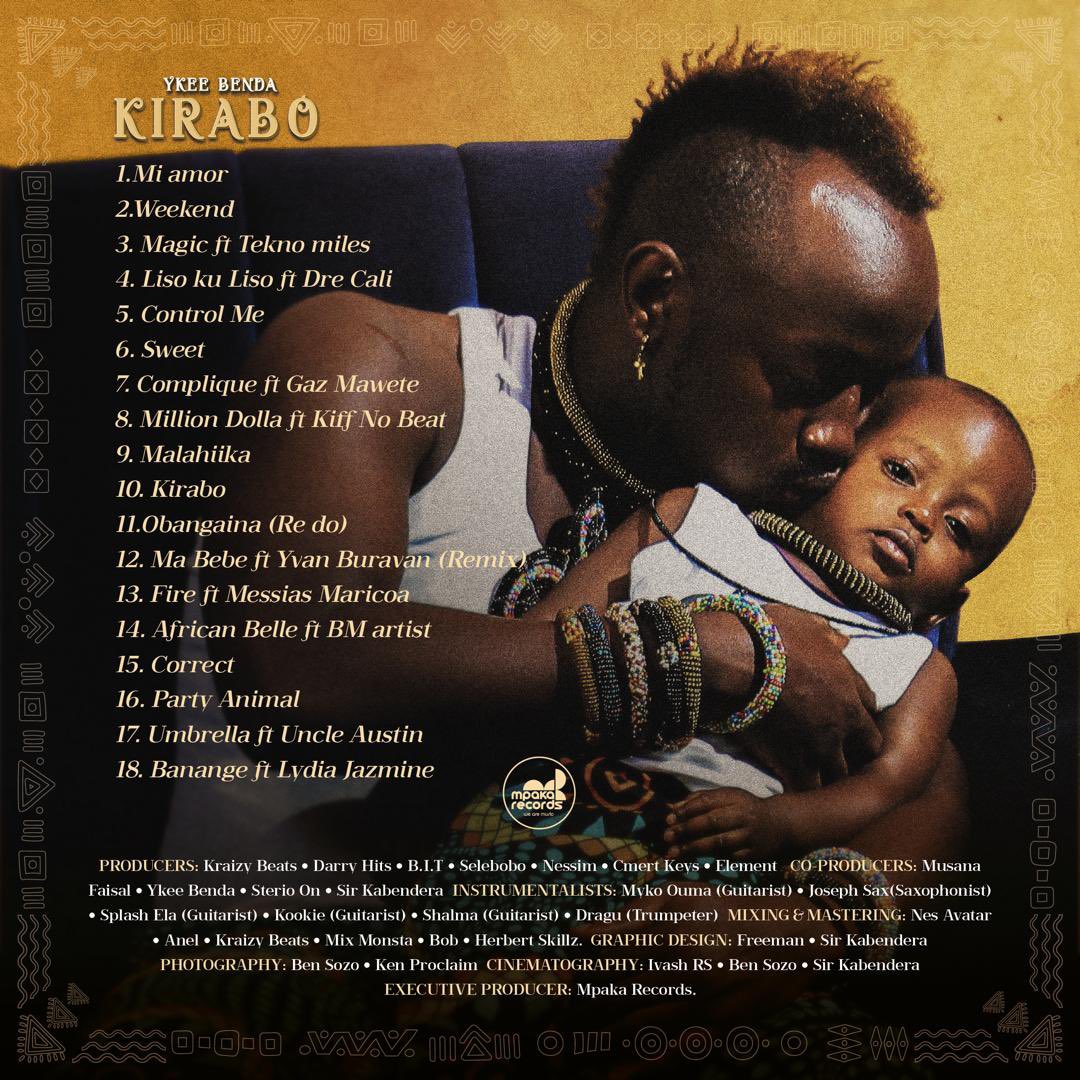 Producers worked with to put to the album together include Nessim, Kralzy Beats, B.I.T, Selebobo, Qmert Keys, Element and Darry Hits.
Release Plan: The 'Kirabo' album is to go for purchase on the Mpaka Records website at only Ugx. 35,000/= where purchases will be effected by way of MTN Mobile Money, Airtel Money, VISA and Mastercard payment methods. Kirabo will also be available for streaming on the various digital music streaming and downloading platforms.  
As we await the LP, here's track 18.